13.90 € inkl. MwSt. / zzgl. Versand ab 4.95 € innerhalb DE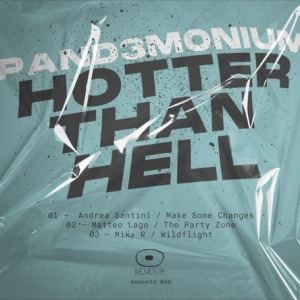 Memento records is thrilled to announce "Hotter than Hell" a dancefloor twister release produced by Matteo Lago, Andrea Santini and Miky R, three DJs with more than e decade of experience behind the Booth. They are best known for their sweaty kinky party named Pandemonium that is soon becoming a record label as an output for their studio work.
"Make Some Changes" by Andrea Santini is a groovy hi-shuffled percussive track with a juicy acidic touch with an outbreak of good vibes and positive energy
"The Party Zone" by Matteo Lago is a killer cutting edge House track with an hypnotic synth, a full-bodied kick and sharp hi hats that lead straight into an anthemic 90s vocal hook
Miky R's techoid "Wild Flight' spreads elegant quirks rand clinks over a relentless sub bass and sophisticated uplifting Detroit-reminiscent chords.
Don't miss it! It's gonna make a Pandemonium!
Teaser: https://soundcloud.com/memento-records/sets/pand3monium-hotter-than-hell
| | | |
| --- | --- | --- |
| # | Artist | Title |
| 1 | PAND3MONIUM | 1. Make Some Changes |
| 2 | PAND3MONIUM | 2. The Party Zone |
| 3 | PAND3MONIUM | 3. Wild Flight |