10.95 € inkl. MwSt. / zzgl. Versand ab 4.95 € innerhalb DE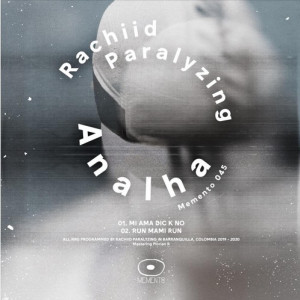 Artist
Rachiid Paralyzing
TIP
12"
Broken - Drum & Bass
DnB
WW EXCL
Teaser: https://bit.ly/3gq0U6R
Analha was one of the first approaches I had with the design of analog basses and drums, to understand the way in which we can involve so many sounds and transform them to our own liking, to give it its own narrative, a sense, an identity in which it can be navigated about different styles without problem.
They are two pieces that make up totally different break paths where "Mi ama Dic K no" [A1] is my own exploration and vision of the break beat, three melodies written in F # that count the subtlety, while the bass contrasts in an aggressive idea to the beat of many changing rhythms in the drums, which sorfs between a Mpc, 808, Dsm & V Modular ; Classic trip hop voices samples that guide the way this own idea progresses on the breaks and pads that generate a more complete environment with a very energetic atmosphere that is constantly on the rise in the active and natural development of the track.
Towards the B side "Run mami run" [B1] is composed by a classic intro of acid cut while some seconds of drums interpose which are accompanied by a radio narration of a chase, a return change is present with a vinyl spin between voices from GTA & WU TANG CLAN which make an intro for an infusion of breaks fully aligned to the beginnings of oldskool drum and bass which are accompanied by voices recorded, treated and edited to connect more directly between the spaces interrupted by the glitch acid chords.
Among contrary structures "Analha" contains hidden but marked criticisms, it is a project that comes from 2018 and ended at the beginning of 2019 which made him think about how to involve more than music within his own sound narrative.
The sonorous identity of rachiid today is different, he understands his environment but does not believe in adapting, he tells us that each exploration and discovery during these years have led him to think how this first release was born until now but is not connected at all with what nowadays, describes his sonority today as changeable, essential and highly with IDM, experimental and breaks.
| | | |
| --- | --- | --- |
| # | Artist | Title |
| 1 | Rachiid Paralyzing | A. Rachiid Paralyzing - Mi Mama Dic K No |
| 2 | Rachiid Paralyzing | B. Rachiid Paralyzing - Mi Mama Dic K No |