10.95 € inkl. MwSt. / zzgl. Versand ab 4.95 € innerhalb DE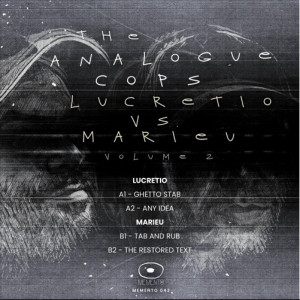 Catalog

Memento043

Title

Lucretio versus Marieu Vol.2

Artist

The Analog Cops

Label

memento

Release Date

2020-04-08
TIP
12"
HEMPELSSOFA
WW EXCL
After the successful first volume of their split collection, Lucretio
and Marieu a.k.a. The Analogue Cops come back on Memento with a
breathtaking four tracks E.P..
Lucretio delivers two cuts written and produced with the extraordinary
Kyma workstation: "Ghetto Stab" is an heavy DanceMania influenced
party banger while "Any Idea" is a deep techno journey into the realms
of spectral manipulation.
Marieu brings in all the hardware horsepower romanticism with "Tab and
Rub" and "The Restored Text"; the first being acid excursion into the
memories of the earl From days, the second interpolating massive kick
drums and saturated harmonics with frantic vocal samples.
A record not to be missed!
| | | |
| --- | --- | --- |
| # | Artist | Title |
| 1 | The Analog Cops | A1. Lucretio - Ghetto |
| 2 | The Analog Cops | A2. Lucretio - Any Idea |
| 3 | The Analog Cops | B1. Marieu - Tab And Rub |
| 4 | The Analog Cops | B2. Marieu - The Restored Text |