10.95 € inkl. MwSt. / zzgl. Versand ab 4.95 € innerhalb DE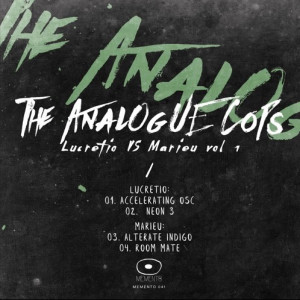 Catalog

Memento041

Title

Lucretio versus Marieu Vol1

Artist

The Analog Cops

Label

memento

Release Date

2019-06-17
TIP
12"
House
House
WW EXCL
Artists: The Analogue Cops
Title: "Lucretio versus Marieu Vol1"
Memento 041
The Analogue Cops are back on Memento, after their acclaimed remix of Francesco Farfa "Synchronicty 13", with "Lucretio versus Marieu Vol. 1".
This will be the first chapter of a series dedicated to a tidy compromise-less selection of their most groundbreaking club oriented tracks.
On Lucretio's side, "Accelerating Osc" is a minimalistic relentless techno cut that explores algorithmic sequencing and the boundaries of real-time delay manipulation in Kyma; pounding away, "Neon 3" is a furious peak-time ride with jacking drums, sharp hi-hats and worrisome hypnotic synthesizers.
Marieu's side is a slower paced groove affair focused on his distinguishing seductive use of sampling: "Alterate Indigo" festive bass line and enthusiastic cymbals blossom with an enchanting blues piano and an handful of filtered quirks, while "Room Mate" combine hot vocal hooks and a funky bass-line with a massive kick-drum.
| | | |
| --- | --- | --- |
| # | Artist | Title |
| 1 | The Analog Cops | Lucretio - Accellereting osc |
| 2 | The Analog Cops | Lucretio - Neon3 |
| 3 | The Analog Cops | Marieu - Alterate indigo |
| 4 | The Analog Cops | Marieu - Roomate |