10.95 € inkl. MwSt. / zzgl. Versand ab 4.95 € innerhalb DE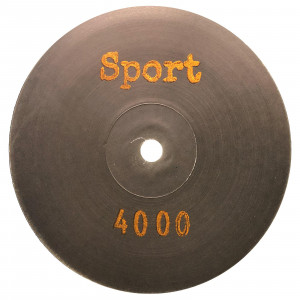 Catalog

Sport4000

Title

Sport 4000

Artist

unknown

Label

Sport

Release Date

2019-02-04
TIP
12"
Techno - Broken
Techno/ Breaks
WW EXCL
Sport 4000
A - The Prophet
Drenched in a thick haze of layered synthpads, "The Prophet" builds up from muted, dissonant percussion and little drum-fills. A few vocal-snippets recorded on the street give way to a slowed down jungle-jam, that winds down before things intensify for the rollout. One for the twilight hours.
B1 - Meatpie
Clearly the thug of this bunch, "Meatpie" is a mean technostomper, driven by distorted drums and a thick underbelly of call-and-response basslines. Midway through, rather unsubtle tribal drums switch things up and introduce a dramatic pad, before the carnage resumes. Supported by Violet (Naïve), Peach, Imre Kiss, JASSS and ASOK (Lobster Theremin) amongst others.
B2 - Contadini
You fool around with some classic old samples, finish the tune for a laugh, it works great but in the meantime a dozen other tracks come out with the same break. What to do? Sleep on it for way too long and finally stick it on the runout of your B-Side, that's what you do. Go have fun with this!
All props to the Vicks-crew.
| | | |
| --- | --- | --- |
| # | Artist | Title |
| 1 | unknown | SPORT4000-A-The_Prophet-Snippet |
| 2 | unknown | SPORT4000-B1-Meatpie_Snippet |
| 3 | unknown | SPORT4000-B2-Contadini |