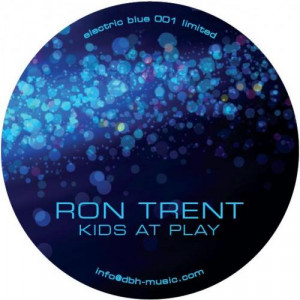 Catalog

eb001ltd

Title

kids at play

Artist

ron trent

Label

electric blue

Release Date

2012-02-06
TIP
12"
House
house
WW EXCL
dbh music presents electric blue - ron trent's new label!
taken from the upcoming double album "raw footage".
"Kids At Play" is convincing for "Altered States" again as another lesson in an extremely elegant design of exciting electronic aspects from life "on the cutting edge behalf House and Techno." Like with his legendary warehouse classic from 1990 Trent moves again at this point in 2011 off a harmonically dominated terrain on Prescription sound philosophy, to which many of his die-hard fans may focus him otherwise only. Anyone who has seen Trent since its KMS interlude with Chez Damier and his collaboration with Berlin's Maurizio duo [Mark Ernestus & Moritz von Oswald] as a real producer and not only as incarnate 4-Four-house machinery recognizes and loves the other side of his genius and his techno-affinity immediately. This is oriented so on the rawness of the early Chicago House with the initial spark of Farley Jackmaster Funk or Adonis, as well as the fusion potential of Herbie Hancock and performs as an educational base for the forthcoming album "Raw Footage" to an expression of open creative style that extends beyond the normal limits of the genre far beyond otherwise binding. "Kids At Play" touches in a whole both morning wee-wee-hours as well as ecstatic, night club moments, before Trent defines the trackwerk as unusual blueprint for new stringent forms of the House, where this vinyl will also demand his most impressive moment experiences. In Trent's body of work, the track comes ahead of many recordings in recent years on the highest level, mainly because it the dimension of predictability with that of unpredictability in the sense of "more energy and power" exchanges and at the end of an exhibit defines what probably most of today's house conaisseures with an open mind demand as their own. We therefore recommend simply seat reservation on the dancefloor!
"Kids At Play" überzeugt dabei nach "Altered States" erneut als weitere Lehrstunde eines extrem eleganten Entwurfs zu aufregenden elektronischen Lebensaspekten "on the cutting edge behalf House and Techno". Wie bei seinem legendären Warehouse Klassiker aus 1990 bewegt sich Trent dabei erneut an dieser Stelle in 2011 (12 ?) abseits eines harmonisch geprägten Terrains an Prescription-Soundphilosophie, auf das ihn viele eingefleischte Fans sonst nur allzu gern allein fokussieren mögen.
Wer Trent seit seinem KMS-Intermezzo zusammen mit Chez Damier sowie seiner Zusammenarbeit mit Berlins Maurizio-Duo [Mark Ernestus & Moritz von Oswald] als realen Produzenten und nicht nur als fleischgewordene 4-Four-House-Maschinerie erlebt hat, erkennt und liebt die andere Seite seiner Techno affinen Genialität ebenso sofort. Diese orientiert sich so an der Rohheit des frühen Chicago House mit dem initialen Funk eines Farley Jackmaster Funk oder Adonis sowie dem Fusions-Potential eines Herbie Hancock und führt als Erziehungsgrundlage für das in Kürze erscheinende Album "Raw Footage" zu einer Expression des Stil offenen Schaffens, die über die normalen Grenzen des sonst verbindlichen Genres weit hinaus reicht. "Kids At Play" berührt dabei in einem Ganzen sowohl morgendliche wee-wee-hours wie auch ekstatische, nächtliche Club-Momente, wie auch bisher an Trent weitestgehende ungewohnte Blaupausen für neue stringente Formen des House, durch den dieses Vinyl dann auch seine beeindruckendsten Momente erfährt.
In Trents Gesamtwerk dürfte der Track damit weit vor vielen Einspielungen der letzten Jahre auf allerhöchstem Niveau rangieren, vor allem weil er die Dimension der Kalkulierbarkeit mit derjenigen der Unberechenbarkeit im Sinne von "more energy and power" austauscht und am Ende ein Exponat definiert, dass wahrscheinlich die meisten House-Conaisseure mit offenem Geist ihr Eigentum nennen wollen. Wir empfehlen daher schlicht Platzreservierung auf dem Dancefloor!
| | | |
| --- | --- | --- |
| # | Artist | Title |
| 1 | Ron Trent | Kids at Play |