13.90 € inkl. MwSt. / zzgl. Versand ab 4.95 € innerhalb DE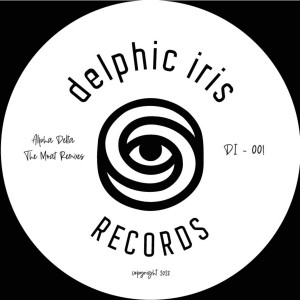 Label
Delphic Iris Records
Title
Alpha Delta's The Moat Remixes
TIP
12"
House
techno
WW EXCL
DBH Music welcomes Delphic Iris Records to the distribution Family!
Out soon: DI001V - Alpha Data - Alpha Delta's The Moat Remixes (12")
The elusive Hackney basement dweller Alpha Delta colloquially known as Alpha D drops his debutsingle "The Moat" as the very first 12" output on the mysterious new hybrid Berlin++Sydney based label Delphic Iris Records. The headline single inspired by a faithful rave session in Croatia whereAlpha D was simultaneously emotionally touched, scarred and sonically pummelled by kick drums ata wild and stormy Dimensions Festival.
This dark techno beast was the aggressive, distorted acid offspring of that faithful night ravingbetween the mud and tears of the crowd at the formidable Moat stage at Punta Christo. His OG Mixis classic 132bpm heavy pounding acid techno at its moodiest. In the Remix department we have support from the entire Delphic Iris Records crew on this one. Afitting introduction to the labels sound. Sydney based Drox of Analog Cabin fame has a low end electro bass bin rattler for us that delvesinto melancholic and psychedelic 303 territory, deep, minimal and functional a perfect mid setgroover in our opinion. Critical Automator takes us on a deep and elegant techno journey transcending both murky seasand lush hazy skies in his dub mix. Definitely dialled back from the OG mix but there is no shortage ofkick drum energy in this one. 16 Faces cooks up complex drum work and funk driven baselines in a hybrid 146 bpm number that'sa just a touch rave, grime and idm in his 5am mix. The off beat stabs and euphoric strings areplentiful, more than enough to get your through any wobbly kneed sunrise.
https://soundcloud.com/delphiciris
https://www.instagram.com/delphicirisrecords/
selected feedbacks:
"woow who is this??? loving this all tracks are pretty good!!!!" - Machine Woman (Rinse FM)
5/5
Fav: OG Mix
- FEATURED ON HER RINSE FM SHOW AS INTRO TRACK https://soundcloud.com/rinsefm/machine-woman-10-july-2023
________
"Hard to pick a favourite, they're all moody and raw in all the right ways" - Louise Chen (NTS)
4/5
Fav: Drox Electro Mix
________
"Nice one.. dub mix is great. thanks" - Sam Barker (Ostgut Ton)
5/5
Fav: Critical Automator Mix
________
"thanks!" - Dubfire
5/5
Fav: Drox Mix
________
"love how weird and wonky this all is" - Opium Hum (Boiler Room Berlin/CTM)
5/5
Fav: OG Mix
________
"sick" - Cici (Openlab Ibiza/Rinse FM)
5/5
Fav: 16 Faces Mix
________
"love the meeting of industrial and dub" - Luigi Di Venere (Cocktail D'Amore/Phonica Records)
5/5
Fav: Critical Automator Mix
________
"THE MOAT IS DOPE" - Henry Greenleaf (Noods Radio)
5/5
Fav: OG Mix
________
"Dope!" - Samuel Deep (Slapfunk Records)
4/5
Fav: OG Mix
________
"sick!!!!!" - Hybrid Theory (four40 records)
5/5
Fav: 16 Faces Mix
________
"Brilliant selection of remixes, styles across many sounds" - OPR8 (Sub FM)
5/5
Fav: Critical Automator Mix
________
"thanks" - Danielle (NTS)
5/5
Fav: Drox Mix
________
"Great Release" - Tuff Wheelz
4/5
Fav: Critical Automator Mix
________
"C.A. Dub Mix is massive!" - Black Cadmium
3/5
Fav: Critical Automator Dub Mix
________
"yeah!yeah!yeah!" - Soukie & Windish (URSL Records)
4/5
Fav: Critical Automator Mix
| | | |
| --- | --- | --- |
| # | Artist | Title |
| 1 | Alpha Delta | Alpha Delta - The Moat (OG mix) - Preview 128kps |
| 2 | Alpha Delta | Alpha Delta - The Moat (Drox Electro mix) - Preview 128kps |
| 3 | Alpha Delta | Alpha Delta - The Moat (Critical Automtor Dub Mix) - Preview 128kps |
| 4 | Alpha Delta | Alpha Delta - The Moat (16 Faces 5am Mix) - Preview 128kps |