20.90 € inkl. MwSt. / zzgl. Versand ab 4.95 € innerhalb DE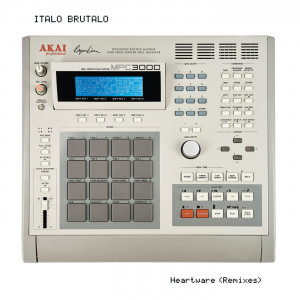 Catalog

BD011

Title

Heartware (Remixes)

Artist

Italo Brutalo

Label

Bungalo Disco

Release Date

2023-06-16
TIP
12"
House - Electro
WW EXCL
After the great success of Italo Brutalo´s debutalbum "Heartware" it was quite obvious to let some of the
hottest artists around rework some of the songs. Kafkactrl, who released some great EPs on Vortex Trax took "You are welcome" to another – his very own
dimension. While the original is quite straight his remix is dominated by electro beats paired with his stunning
micro editing. "Reach Horizon" has been remixed by CYRK, who are without any doubts one of the best live acts these
days. Mufti from Mexico made a very dancefloor-ish remix out of "Dream Machine", which will be heard at festivals
athis summer for sure. None other than one of the two Slow Motion Label heads, Fabrizio Mammarella, made a great dancefloor
version of "Into a sampler". South Korean´s Shubostar created a great cosmic disco remix of "Heat of the Knight", that can be played
any time in a cool DJ set. Last but not least Italo Brutalo´s longterm friend Kris Menace turned "Into a Sampler" into a powerful bass-inyour-
face version.
http://instagram.com/italobrutalo
http://facebook.com/italobrutalo
http://soundcloud.com/italobrutalo
http://youtube.com/italobrutalo
http://instagram.com/bungalo_disco
http://facebook.com/bungalodisco
http://soundcloud.com/bungalo-disco
| | | |
| --- | --- | --- |
| # | Artist | Title |
| 1 | Italo Brutalo | A1 Italo Brutalo - You Are Welcome (Kafkactrl Remix) SNIPPET |
| 2 | Italo Brutalo | A2 Italo Brutalo - Reach Horizon (CYRK Remix) SNIPPET |
| 3 | Italo Brutalo | A3 Italo Brutalo - Dream Machine (Mufti Remix) SNIPPET |
| 4 | Italo Brutalo | B1 Italo Brutalo - Into a Sampler (Fabrizio Mammarella Remix) SNIPPET |
| 5 | Italo Brutalo | B2 Italo Brutalo - Heat of the Knight (Shubostar Remix) SNIPPET |
| 6 | Italo Brutalo | B3 Italo Brutalo - Into a Sampler (Kris Menace Remix) SNIPPET |