29.99 € inkl. MwSt. / zzgl. Versand ab 4.95 € innerhalb DE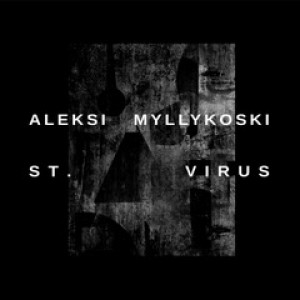 12"
lp
Electronica - Ambient
Ambient
Dark Ambient
Doom Jazz
WW EXCL
Press release text:
St. Virus is a Covid-themed album born in Covid times. It processes the pandemic phenomenon from the aspect of the individual and sometimes of the pandemic itself on a philosophical level.
The opening track, "Isolation", takes the listener on a journey plagued by the sense of loneliness created by isolation. The ever-present melancholy slowly deepens into an overflowing anxiety without release. The eponymous "St. Virus" is a piece that considers the relationship between man and nature and the viruses that appear in it. They work in their own expected and, upon consideration, very honest way. Are we humans honest like this? Are human beings on some level similar to a virus? "Inherently Destructive" presents the idea of the unsustainability of the current situation. The events around us are fundamentally destructive for the individual person, for society and for the culture it carries. St. Virus is a personal soundtrack through Covid times. Record featuring artists are Tapani Rinne, Wimme Saari and Ville Kuukka.
Label:
Signature Dark
Label code:
SD7
Artist:
Aleksi Myllykoski
Release/record name:
St. Virus
Vinyl tracks list:
A1 COMPOSITION I — ISOLATION 12′27″
B1 COMPOSITION II — ST. VIRUS / FALL 9′23″
B2 COMPOSITION III — CONTROL 5′21″
C1 COMPOSITION IV — SUFFOCATE 6′19″
C2 COMPOSITION V — SOCIAL DISTANCING 11′13″
D1 COMPOSITION VI — INHERENTLY DESTRUCTIVE / CONTAMINATION 6′13″
D2 COMPOSITION VII — THE VALUE OF CULTURE 5′34″
Artist infos:
Aleksi Myllykoski (electronics)(tracks: 1,2,3,4,5,6 & 7)
Tapani Rinne (saxophone) (tracks: 1,2,3,4,5 & 6)
Wimme Saari (joik) (track: 6)
Ville Kuukka (guitar) (track: 3)
Jarno Lappalainen (bass guitar) (track: 1)
Markus Jaatinen (drum sample recording)(track: 3)
Dimitris Tatsis (guitar slicks)(track: 5)
Written and produced by Aleksi Myllykoski
Recorded and mixed by Aleksi Myllykoski
Mastered by Taylor Deupree at 12k Mastering
Cover art by Ville Kurru
Graphic design by Juuso Koponen
Copyright Signature Dark 2022
All rights reserved
| | | |
| --- | --- | --- |
| # | Artist | Title |
| 1 | Aleksi Myllykoski | Composition I - Isolation 2 |
| 2 | Aleksi Myllykoski | Composition II - St. Virus - Fall 2 |
| 3 | Aleksi Myllykoski | Composition III - Control 2 |
| 4 | Aleksi Myllykoski | Composition IV - Suffocate 2 |
| 5 | Aleksi Myllykoski | Composition V - Social Distancing 2 |
| 6 | Aleksi Myllykoski | Composition VI - Inherently Destructive - Contamination 2 |
| 7 | Aleksi Myllykoski | Composition VII - The Value of Culture 2 |