12.90 € inkl. MwSt. / zzgl. Versand ab 4.95 € innerhalb DE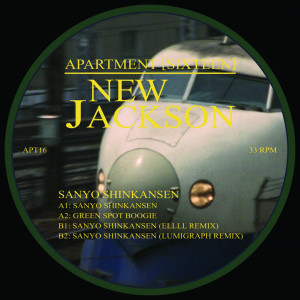 Title
Sanyo Shinkansen (feat. remixes by Ellll & Lumigraph)
TIP
12"
Broken
house
deep
WW EXCL
DBH Music welcomes Apartment Records to the Distribution Family!
Out soon: APT016 - New Jackson - Sanyo Shinkansen - (feat. remixes by Ellll & Lumigraph) 12"
Teaser: Teaser: https://bit.ly/3IGgTfK
Apartment returns with its first all-Irish 12" in 5 years and New Jackson's first full release for the label - after previously remixing Tr One and being a member of Bande Apartment - with the feedback and acid soaked Sanyo Shinkansen EP. The Dublin native is backed up by two of the most exciting Irish producers of the last 10 years, ELLLL and Lumigraph - the latter who is also a partner-in-crime with New Jackson on the Garies project (Future Times / Major Problems).
The title track is a hypnotic, motorik driven piece of minimal techno buoyed by attuned drums and whirling feedback, resulting in a 7 minute trance that sounds little else out there at the moment. ELLLL and Lumigraph both take it in wildly different directions, the former imbuing it with her trademark off kilter rhythms & tense, high speed breakbeats whilst the later delivers a bass-heavy swinging, deep techno version that deserves the heaviest rig you can find.
New Jackson's second new cut on the EP, Green Spot Boogie, is the artist's wildest concoction yet; jittering vocal samples, hyperactive percussion and a sinewing acid line - this is pacy, abstract techno for the more intense dancefloor.
Worldwide exclusive distribution: www.dbh-music.com
| | | |
| --- | --- | --- |
| # | Artist | Title |
| 1 | New Jackson | Sanyo Shinkansen |
| 2 | New Jackson | Green Spot Boogie |
| 3 | New Jackson | Sanyo Shinkansen (ELLLL Remix) |
| 4 | New Jackson | Sanyo Shinkansen (Lumigraph Remix) |