12.90 € inkl. MwSt. / zzgl. Versand ab 4.95 € innerhalb DE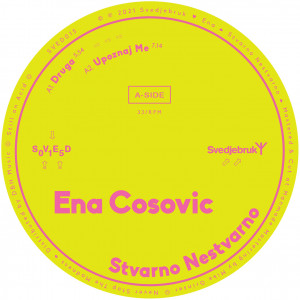 Catalog

SVED015

Title

Stvarno Nestvarn

Artist

Ena Cosovic

Label

Svedjebruk

Release Date

2023-01-09
TIP
12"
Techno
WW EXCL
Ena Cosovic - Stvarno Nestvarno – (SVED015)
With Stvarno Nestvarno, Ena Cosovic delivers a deeply personal and intoxicating take on dub techno. Soaked in a deep knowledge of its roots and painted with the colors of her own past. As a veteran in the scene and a resident DJ at Copenhagen's most prolific club Culture Box she has an intuitive feeling for the dance floor.
Stvarno Nestvarno is "emotional body music" - pulsating rhythms, hypnotic beats laced with catchy hooks.
In short, timeless music for bending minds and bodies.
Don't forget: Maximum volume yields maximum fun – Enjoy!
VINYL Release date: 09.01.2023
Track list:
A1 Druga 5:54
A2 Upoznaj Me 7:14
B1 Stvarno Nestvarno 6:14
B2 Stvarno Nestvarno (Tobias Gullberg Remix) 5:12
Label: Svedjebruk
Catalogue#: SVED015
Contact: rasmus@svedjebruk.se, +46 735 03 39 37
Distribution : DBH-MUSIC.COM, info@dbh-music.com
Mastered & Cut by Mike Grinser, Manmade Mastering
www.svedjebruk.se
www.soundcloud.com/svedjebruk
| | | |
| --- | --- | --- |
| # | Artist | Title |
| 1 | Ena Cosovic | SVED015 A1_Druga SNIPPET |
| 2 | Ena Cosovic | SVED015 A2_Upoznaj Me SNIPPET |
| 3 | Ena Cosovic | SVED015 B1_Stvarno Nestvarno SNIPPET |
| 4 | Ena Cosovic | SVED015 B2_Stvarno Nestvarno_Tobias Gullberg_Remix SNIPPET |