12.90 € inkl. MwSt. / zzgl. Versand ab 4.95 € innerhalb DE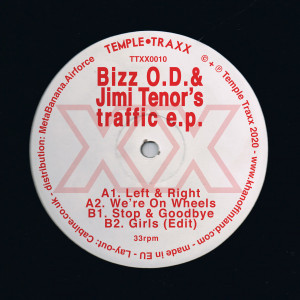 Artist
JIMI TENOR & BIZZ O.D.
JIMI TENOR & BIZZ O.D.
"Traffic EP"
(TTXX0010)
TEMPLE TRAXX is dirty machine music!
Jimi Tenor & Bizz O.D. met 1989 in a Helsinki club called Berlin. They decided to move to New York City in 1992 to start the band "Public Extacy" which never saw the light of day. A few years later, Jimi had already left NYC but was visiting, so the two met to record "Bizz O.D. & Jimi Tenor's Traffic E.P.". Released in 1995 on OZON Records founded by nobody else but Jammin' Unit and Biochip C. Originally a 3 track e.p.but we at Temple Traxx thought that it was the right time to remaster and reissue this acid jewel and add an unreleased bonus track called "Girls". This 4 track e.p. shows once more that the two artists are real inovators and pioneers of a sound that is hipper than ever in 2020.
| | | |
| --- | --- | --- |
| # | Artist | Title |
| 1 | JIMI TENOR & BIZZ O.D. | A1. Left And Right |
| 2 | JIMI TENOR & BIZZ O.D. | A2. Kraftwerk |
| 3 | JIMI TENOR & BIZZ O.D. | B1. Good Bye |
| 4 | JIMI TENOR & BIZZ O.D. | B2. Girls Edit |