12.90 € inkl. MwSt. / zzgl. Versand ab 4.95 € innerhalb DE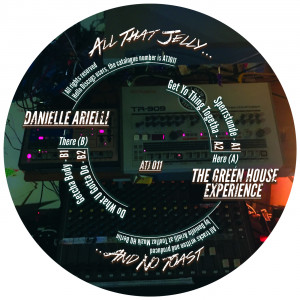 Catalog

ATJ011

Title

The Green House Experience

Artist

Danielle Arielli

Label

All That Jelly

Release Date

2022-10-11
12"
House
Deep
WW EXCL
Artist: Danielle Arielli
Title: The Green House Experience
Label: All That Jelly
Release Date: Oct. 7, 2022
Catalogue No.: ATJ 011
Distributed by DBH
Mastered & cut by Andreas Kauffelt
Copyright: Smile for a while
Tracklisting (in order):
A1 – Sperrstunde
A2 – Get Yo Thing Togetha
B1 – Getcha Body
B2 – Do What U Gotta Do
Danielle Arielli is a young and promising producer based in Berlin, completely devoted to
the DIY ethos. Her banging DJ sets are full of energy, mixing classic Chicago House with
Detroit Techno, Ghetto House and all the black magic in between. After her first full length
EP on her own label TOOFLEZ MUZIK, her follow-up EP on "Smile for a while" sublabel
"All That Jelly" is completely on the same level as her DJ sets - bang dat sh*t!
| | | |
| --- | --- | --- |
| # | Artist | Title |
| 1 | Danielle Arielli | Sperrstunde |
| 2 | Danielle Arielli | Get Yo Thing Togetha |
| 3 | Danielle Arielli | Getcha Body |
| 4 | Danielle Arielli | Do What U Gotta Do |