12.90 € inkl. MwSt. / zzgl. Versand ab 4.95 € innerhalb DE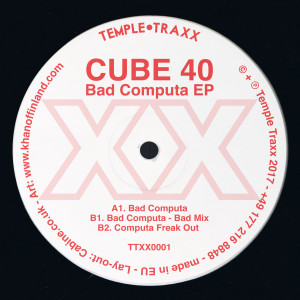 TIP
12"
House - Acid
WW EXCL
DBH Music proudly welcomes Khan and his label Temple Traxx to the distribution family!
Out soon: TTXX0001 - CUBE 40 - Bad Computa (12")
(Re-issue from 1995)
TEMPLE TRAXX is dirty machine music!
"Bad Computa" was originally released in 1995 on Temple Records NYC. Produced by my brother Jammin' Unit, who also signed for re-mastering, and Bizz O.D. in four-on-the-floor matters.
CUBE 40 was always meant to be "The Ramones of Techno" by repeating the same track idea over and over. Compare
with "You Make Me Function" and you'll get the idea. Cube 40 played only one show ever: 1998 at Berlin's E-Werk, dressed in ripped
jeans and t-shirts, long black hair, and a can of Budwiser in each hand to resemble their Gabba-Gabba-Hey heroes.
Hey Ho Let's Go, Bad Computa!
Teaser: https://bit.ly/3woTYin
Artist: Cube 40
Title: Bad Computa
Label: Temple Traxx
Genre: House/ Acid/ Techno
Format: 12"
Release date: 01.11.2022
Cat: TTXX0001
Tracklisting:
A1. Bad Computa (Original)
B1. Bad Computa (Bad Mix)
B2. Computa Freak Out
Direct order: dbh-music.com/shop/release_view/15548
Worldwide exclusive distributed by www.dbh-music.com
| | | |
| --- | --- | --- |
| # | Artist | Title |
| 1 | CUBE40 | A1. Cube 40 - Bad Computa (OriginalVersion) |
| 2 | CUBE40 | B1. Cube 40 - Bad Computa (Bad Mix) |
| 3 | CUBE40 | B2. Cube40 - Computa Freakout |