12.90 € inkl. MwSt. / zzgl. Versand ab 4.95 € innerhalb DE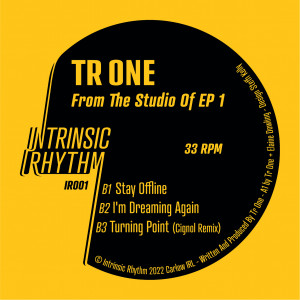 Catalog

IR-001

Title

From The Studio Of EP1

Artist

Tr One

Label

Intrinsic Rhythm

Release Date

2022-08-02
TIP
12"
Techno - Deep
WW EXCL
Artist - Tr One
Title - From The Studio Of EP1
Label - Intrinsic Rhythm
Catalogue - IR001
A1 - Pitchshift Featuring Elaine Dowling
A2 - Turning Point
B1 - Stay Offline
B2 - I'm Dreaming Again
B3 - Turning Point (Cignol remix)
Info -
Landing this summer is a fantastic body of work from talented Irishman, Tr One, and quite notably the inaugural release on his own "Intrinsic Rhythm" label. His debut album "From The Studio Of" is a masterpiece that maneuvers between innovative strains of deep house, spaced out electro, and discerning mellow techno; the studio album spans across fourteen tracks including an acid tinged remix from, Cignol, and some stellar input from, Mihail P. Continuously inspired by the greats, and drawing influence from an array of sounds of the past whether that be, Chicago, Detroit and beyond, Tr One has now found himself with a cohesive series of tracks that speaks with power and creativity, and will see the light of day on both 2 x seperate 12" EP's and digital.
The first EP cruises into "Pitchshift" a deep, and melodic Detroit beatdown influenced trip featuring the vocals of Elaine Dowling. "Turning Point" drifts you up a notch, emotional synths breathe life into the crisp drum arrangements, but never getting carried away. The intelligently constructed "I'm Dreaming Again" sways gently in the realms of the after hours, hypnotic and captivating sounds from the Carlow based producer. Maintaining the enigmatic mood is "Stay Offline" a distinctive bassline drives the track allowing the other elements to converse peacefully. Cignol's remix of "Turning Point" brings a new acid dynamic to the album, squelchy lines bounce around tidy drum work.
Full album already available on Bandcamp: https://soundcloud.com/trone1234/tr-one-from-the-studio-off-snippets
Laurent Garnier - The album is GREAT …. BRAVO Mister
Ben UFO - Thanks Eddie, sounds great as usual!
Call Super - think faux outrage my fave piece on there
Also dj support from Santiago Salazar, Eamonn Doyle and more
DJ Mag - https://djmag.com/listen/premiere-tr-one-im-dreaming-again
innate feature - https://inn8.net/feature-tr-one-from-the-studio-of/
Tunr - https://tunrmusic.com/inspirational/TrOne
Intrinsic Rhythm: https://linktr.ee/TrOne
| | | |
| --- | --- | --- |
| # | Artist | Title |
| 1 | Tr One | Pitchshift Featuring Elaine Dowling |
| 2 | Tr One | Turning Point |
| 3 | Tr One | Stay Offline |
| 4 | Tr One | I'm Dreaming Again |
| 5 | Tr One | Turning Point (Cignol remix) |