17.90 € inkl. MwSt. / zzgl. Versand ab 4.95 € innerhalb DE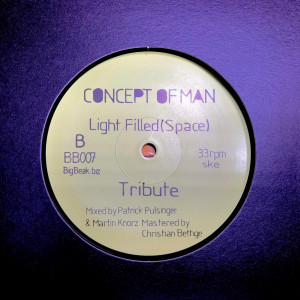 Label
Big Beak Recordings
12"
Techno - Minimal
WW EXCL
BB007
Label: Big Beak Recordings
Artist: CONCEPT OF MAN
Titel: Regularities
Format: 12"
Release date: 29.07.2022
A1. Regularities
A2. Pilotis
B1. Light Filled (Space)
B2. Tribute
CONCEPT OF MAN - Regularities
Concept Of Man is Martin Knorz - Berlin based keyboarder, producer and DJ.
A studied jazz pianist, Knorz is known for playing keys in the highly acclaimed, german experimental pop band Hope, with whom he's been touring around Europe and UK over the past couple of years, as well as forming the sound of Austrian pop icon Teresa Rotschopf's solo debut "Messiah".
In 2019 he started devoting himself to modular sound-synthesis, playing live shows and remixing acts as Hellotrip (Mutant Rebuilds) and Hara Crash (Bali).
His debut "Regularities" will be released on Patrick Pulsinger's Big Beak Recordings in 2022. It's a modular infused tape majestically crafted by a sound surgeon. Drawing inspiration from Robag Wruhme, James Holden and Patrick Pulsinger (with whom he has collaborated on his album Impassive Skies and the EP Nocturnal Cat), "Regularities" consists of four minimal tracks and a durational modularsynth-only-performance, both of which feed the realm of sound caviar. Tribal rhythms join the darkness of modular sounds, regular beats oscillate on irregular impulses, while intriguing basslines and uplifting chords remind us that Knorz is first and foremost a pianist, a master of melody.
Wooden but soft percussive chords create a tribal rhythm that carries through the song, interrupted by a contrapuntal rhythm. Another drum group provocatively steps in the arena, together they build a rolling total. Then a "squelching", juicy, nearly acid melody grounds the track, to be drummed out by the two groups when approaching the end.
| | | |
| --- | --- | --- |
| # | Artist | Title |
| 1 | CONCEPT OF MAN | Regularities |
| 2 | CONCEPT OF MAN | Pilotis |
| 3 | CONCEPT OF MAN | Light Filled (Space) |
| 4 | CONCEPT OF MAN | Tribute |