34.99 € inkl. MwSt. / zzgl. Versand ab 4.95 € innerhalb DE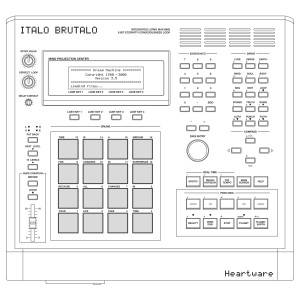 Catalog

BD008

Title

Heartware

Artist

Italo Brutalo

Label

Bungalo Disco

Release Date

2022-08-12
TIP
12"
lp
House
disco
electro
WW EXCL
A tale of paramount love for machines and the inextinguishable power of subjugation that lies in these
button-studded boxes teeming with cabled bowels that feel so intimidating to the uninitiated, Italo Brutalo's
longed-for debut album "Heartware" is a 12-track voyage across 25 years of intense synth collecting, fiddling,
composing and endless loving for audio synthesis and the art of how robots make human bodies jack.
Throughout the twelve cuts that compose "Heartware", a feeling of retro-gazing, candidly playful glee
prevails. Looking right in the eye of the era when dazzling flipper visuals and static-filled VHS glitches
reigned supreme, Italo Brutalo invites us to witness first-hand his own textbook smorgasbord of fast-wheeling
arpeggios and vocodized hoodoo ("Heartware", "Reach Horizon"), dystopian digital sunsets by the beach ("I
Feel Lonely"), early hip-hop-informed whackin' n' thumpin' ("Analog Bars") and the slo but hard churn of a
robot heist score ("Nobody Moves").
A lush tapestry of woozy exotic pads set in contrast with a deft and aggro drum programming ("As Above So
Below"), followed by a new-beat oriented hammer-drop that shall leave no raver unscathed ("Heat of the
Knight"), Italo Brutalo shifts the scope to radical effect whilst maintaining that cohesive headspace flush with
the iconic 80s-to-90s-sourced assets. The hardware used in the making of "Heartware" is obviously the star
here, and the inner sleeve pays tribute to that: the ideas behind the album have been there waiting to find
their way out for over twenty years!
From adrenalin-boosting fractals of keyboard razzle-dazzle ("Chemical Element") to straight out pumping
EBM primed for hi-octane mosh pits down the basement ("You Are Welcome"), via polyrhytmic percs-driven
assaults and sizzling hot synth-smithery ("Into a Sampler"), the pressure levels never falter. Yet, Italo Brutalo
sure knows how to weave further oneiric, softer narratives for your mind to frolic in unhindered ("Dream
Machine") and rounds it all off with a total, space-opera'esque epic bound to have you spinning out of orbit
into the great unknown ("Eternia").
"Heartware" is released in a neat double-vinyl gatefold package presenting the concept and machines
involved in its making, including a twelve-page booklet featuring Italo Brutalo's key pieces of gear.
http://instagram.com/italobrutalo
http://facebook.com/italobrutalo
http://soundcloud.com/italobrutalo
http://youtube.com/italobrutalo
http://instagram.com/bungalo_disco
http://facebook.com/bungalodisco
http://soundcloud.com/bungalo-disco
| | | |
| --- | --- | --- |
| # | Artist | Title |
| 1 | Italo Brutalo | 1.Italo_Brutalo_Heartware_SNIPPET |
| 2 | Italo Brutalo | 2.Italo_Brutalo_Reach_horizon_SNIPPET |
| 3 | Italo Brutalo | 3.Italo_Brutalo_I_feel_lonely_SNIPPET |
| 4 | Italo Brutalo | 4.Italo_Brutalo_Analog_bars_SNIPPET |
| 5 | Italo Brutalo | 5.Italo_Brutalo_Nobody_moves_SNIPPET |
| 6 | Italo Brutalo | 6.Italo_Brutalo_As_above_so_below_SNIPPET |
| 7 | Italo Brutalo | 7.Italo_Brutalo_Heat_of_the_knight_SNIPPET |
| 8 | Italo Brutalo | 8.Italo_Brutalo_Chemical_element_SNIPPET |
| 9 | Italo Brutalo | 9.Italo_Brutalo_You_are_welcome_SNIPPET |
| 10 | Italo Brutalo | 10.Italo_Brutalo_Into_a_sampler_SNIPPET |
| 11 | Italo Brutalo | 11.Italo_Brutalo_Dream_machine_SNIPPET |
| 12 | Italo Brutalo | 12.Italo_Brutalo_Eternia_SNIPPET |