12.90 € inkl. MwSt. / zzgl. Versand ab 4.95 € innerhalb DE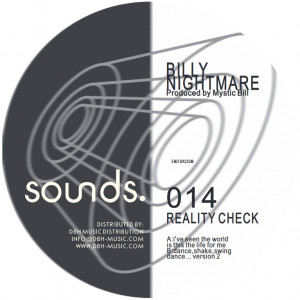 Catalog

SO14

Title

Reality Check

Artist

Billy Nightmare

Label

Sounds.

Release Date

2022-10-17
Another holy grail from the catalogue of SOUNDS. in the rebound. Billy Nightmare aka Mystic Bill - Reality Check from 1996.
Recorded from original DAT, re-mastered and back on vinyl in September.
Highly recommended!
Teaser: https://soundcloud.com/dbh-music/so14-billy-nightmare-reality-check-sounds
Direct pre-oder: dbh-music.com/shop/release_view/15517
Artist: Billy Nightmare (Mystic Bill)
Title: Reality Check
Label: SOUNDS.
Genre: House
Format: 12"
Cat: SO14
Release date: 18.10.2022
Tracklisting:
A1. I Ve SeenThe World
A2. Is This The Life For Me
B1. Dance Shake Swing
B2. Dance...Version 2
Worldwide exclusive distributed by www.dbh-music.com
| | | |
| --- | --- | --- |
| # | Artist | Title |
| 1 | Billy Nightmare | A1. I Ve SeenThe World |
| 2 | Billy Nightmare | A2. Is This The Light For Me |
| 3 | Billy Nightmare | B1. Dance Shake Swing |
| 4 | Billy Nightmare | B2. Dance...Version 2 |