12.90 € inkl. MwSt. / zzgl. Versand ab 4.95 € innerhalb DE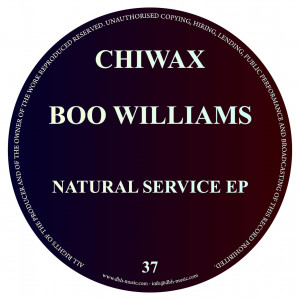 RAWAX proudly welcomes back Mr. Boo Williams!
We are very happy to present you "Natural Service EP" on CHIWAX#37
The 6th release from the Chicago Legend on our label - in our opinion a modern classic.
Highy recommended!
Teaser: https://bit.ly/3NPDdEq
Artist: Boo Williams
Title: Natural Service EP
Label: CHIWAX
Genre: House
Format: 12" (180 Gramm vinyl)
Cat: CHIWAX037
Release date: 27.03.23
Tracklisting:
A1. Boo Williams - Ambushed
A2. Boo Williams - Echoes of the Dance
B. BooWilliams - Zone
W+P by Boo Williams in Chicago, U.S.A.
Mastering by Oliver Lieb @ Lhaudio.com
Vinyl cut by Jörg Henze @ Lhaudio.com
Worldwide exclusive manufacturing and distribution by www.dbh-music.com; info@dbh-music.com
| | | |
| --- | --- | --- |
| # | Artist | Title |
| 1 | Boo Williams | Boo Williams - Ambushed |
| 2 | Boo Williams | Boo Williams - Echoes of the Dance |
| 3 | Boo Williams | BooWilliams - Zone |