12.90 € inkl. MwSt. / zzgl. Versand ab 4.95 € innerhalb DE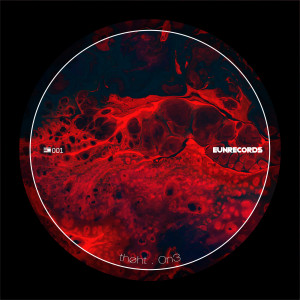 Title
0n3 EP (incl. Remixes by Akiko Iwahara, Charlton)
Catalogue-number: E001
Release Artist: Thøht
Title: 0n3 EP
Remixers: Akiko Iwahara, Charlton
Tracknames:
A1: E001 - thøht - 1nh4l3 (Original Mix)
A2: E001 - thøht - 3xh4l3 (Original Mix)
B1: E001 - thøht - 3xh4l3 (Akiko Iwahara Remix)
B2: E001 - thøht - 1nh4l3 (Charlton Remix)
Press-Release:
Thøth in Egyptian religion is the god of the moon, of reckoning, of learning, and of writing. The ancient Egyptians regarded Thøth as One, self-begotten, and self-produced. He was the master of both physical, moral and spiritual (divine) law.
EUN Records' Thøht in a synonymous, as the name itself, ever-evolving path graces the Berlin-based substantial label with ''0n3 EP'', the first installment of its vinyl release series. As One, learns and delivers the language of techno beyond any other language, a language not written in hieroglyphics but a universal language written in blasting techno soundscapes. Akiko Iwahara and Charlton take over the flip side with two staggering remixes!
Support by :
Abstract Division
Amotik
Astronomical Telegram
Blue Hour
Cannibal Cooking Club
Cristian Marras
Dez Williams
Dr. Motte
Dubiks
Electric Indigo
Electric Rescue (2)
Energun
Eomac
Ethan Fawkes
Fernanda Martins
Figu DS
Gotshell
HD Substance
Inigo Kennedy
Joy Fagnani
Krenzlin
Laurent Garnier
Lindsey Herbert
Local Suicide
Lower Order Ethics
Markantonio
Michel Lauriola
Pappenheimer
Perc
Pfirter
Projekt Gestalten
Regal
RNGD
Rrose
SHDW & Obscure Shape
Skudge
Svarog
Takaaki Itoh
Unbalance
Vegim
Viels
YUKA
| | | |
| --- | --- | --- |
| # | Artist | Title |
| 1 | Thøht | E001 - 1. Thøht - A1. E001 thøht - 1nh4l3 (Original Mix) |
| 2 | Thøht | E001 - 2. Thøht - A2. E001 thøht - 3xh4l3 (Original Mix) |
| 3 | Thøht | E001 - 3. Thøht - B1. E001 thøht - 3xh4l3 (Akiko Iwahara Remix) |
| 4 | Thøht | E001 - 4. Thøht - B2. E001 thøht - 1nh4l3 (Charlton Remix) |