12.90 € inkl. MwSt. / zzgl. Versand ab 4.95 € innerhalb DE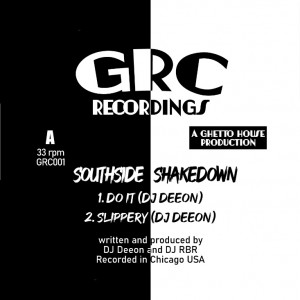 Title
Southside Shakedown
DBH Music welcomes DJ Deeon and his new label GRC Recordings to the distribution family! The first release comes also from the Chicago legend, Dj Deeon himself, the b-side is a collaboration with Dj Rbr. Highy recommended!
Teaser: https://bit.ly/3IL0Dqs
Artist: Deejay Deeon/ DJ RBR
Title: Southside Shakedown
Label: GRC Recordings
Cat: GRC001
Genre: House/ Acid
Format: 12"
Release date: 20.03.2023
Tracklisting:
A1. DJ Deeon - Do It
A2. DJ Deeon - Slippery
B1. DJ Deeon & DJ RBR - The Acid Connection
B2. DJ Deeon & DJ RBR - Ghetto Bang
Worldwide exclusive distributed by DBH music, info@dbh-music.com
| | | |
| --- | --- | --- |
| # | Artist | Title |
| 1 | DJ Deeon/ DJ RBR | A1. DJ Deeon - Do It |
| 2 | DJ Deeon/ DJ RBR | A2. DJ Deeon - Slippery |
| 3 | DJ Deeon/ DJ RBR | B1. DJ DEEON & DJ RBR - The Acid Connection |
| 4 | DJ Deeon/ DJ RBR | B2. DJ DEEON & DJ RBR - GHETTO BANG |