12.90 € inkl. MwSt. / zzgl. Versand ab 4.95 € innerhalb DE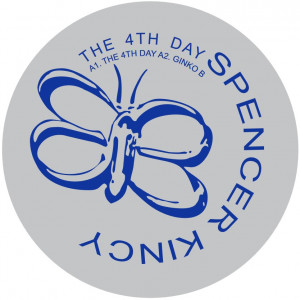 Communique Records re-issues Spencer Kincy aka Gemini - The 4th Day from 1995 on the sublabel MakeOutMusic!
Teaser: https://bit.ly/3ssIlnJ
Re-mastered and recorded from original DAT.
Special thanks to Spencer for the "GO".
Highly recommended!
Artist: Spencer Kincy
Title: The 4th Day
Label: MakeOutMusic
Genre: House
Format: 12"
Cat: MOM004
Release date: 07.07.2022
Tracklisting:
A1. The 4th Day
A2. Ginko B
B1. Moodz
B2. Wobble
w+p by Spencer Kincy in 1995
Re-mastered by Oliver Lieb
DAT re-recording and vinyl cut by W.H. Henze @ Lhaudio.com
Worldwide exclusive distribution and manufacturing by www.dbh-music.com; info@dbh-music.com
| | | |
| --- | --- | --- |
| # | Artist | Title |
| 1 | Spencer Kincy | A1. The 4th Day |
| 2 | Spencer Kincy | A2. Ginko B |
| 3 | Spencer Kincy | B1. Moodz |
| 4 | Spencer Kincy | B2. Wobble |