11.95 € inkl. MwSt. / zzgl. Versand ab 4.95 € innerhalb DE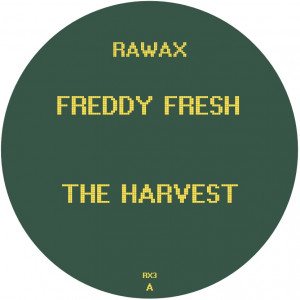 TIP
12"
Electronica
WW EXCL
RAWAX proudly welcomes Mr. Frederick Schmid aka Freddy Fresh to the label Family!
We are very happy to present you one of the true pioneers of Electronic Music on the RX - series.
"The Harvest" marks only the beginning of a journey which hopefully takes a long path.
More to come!
Teaser: https://bit.ly/3HqYBMw
Artist: Freddy Fresh
Title: The Harvest
Label: RAWAX
Cat: RX3
Format: 12" Vinyl
Release date: 09.05.2023
Genre: Ambient Techno/ Electronica
Tracklisting:
A1. Freddy Fresh - The Harvest
A2. Freddy Fresh - House - Spanner
B1. Freddy Fresh - Misunderstood
B2. Freddy Fresh - Twain
B3. Freddy Fresh - Horlywagon
W+P by Frederick Schmid
Worldwide exclusive distributed by www.dbh-music.com, info@dbh-music.com
| | | |
| --- | --- | --- |
| # | Artist | Title |
| 1 | Freddy Fresh | Freddy Fresh - The Harvest |
| 2 | Freddy Fresh | Freddy Fresh - House - Spanner |
| 3 | Freddy Fresh | Freddy Fresh - Misunderstood |
| 4 | Freddy Fresh | Freddy Fresh - Twain |
| 5 | Freddy Fresh | Freddy Fresh - Horlywagon |