14.90 € inkl. MwSt. / zzgl. Versand ab 4.95 € innerhalb DE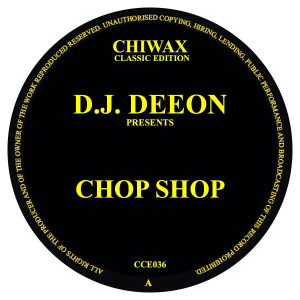 Label
chiwax classic edition
CHIWAX CLASSIC EDITION PRESENTS THE CHICAGO LEGEND, DJ DEEON!
"CHOP SHOP" IS THE FORMER DANCE MANIA #183 FROM 1996
THE RE-MASTERED VERSION WAS TAKEN FROM ORIGINAL DAT AND WILL BE
AVAILABLE IN MARCH 2022. HIGHLY RECOMMENDED!
Teaser: https://bit.ly/31zhmNE
Artist: DJ Deeon
Title: Chop Shop
Label: Chiwax Classic Edition
Cat: CCE036
Format: 12"
Genre: Chicago House/ Ghetto House
Release date: 13.06.2022
Tracklisting:
A1. D.J. Deeon - Who-U-Wit?
A2. D.J. Deeo - Throw-Da-Hoe!
A3. D.J. Deeon - So High
B1. D.J. Deeon - Raw Mix
B2. D.J. Deeon - 1112
Analogue re-mstered by Oliver Lieb @ Lhaudio.com
Vinyl cut by W.J. Hneze @ Lhaudio.com
Worldwide exclusive manufacturing and distribution www.dbh-music.com
| | | |
| --- | --- | --- |
| # | Artist | Title |
| 1 | D.J. Deeon | A1. Who-U-Wit |
| 2 | D.J. Deeon | A2. Throw-Da-Hoe! |
| 3 | D.J. Deeon | A3. So High |
| 4 | D.J. Deeon | B1. Raw Mix |
| 5 | D.J. Deeon | B2. 1112 |