11.95 € inkl. MwSt. / zzgl. Versand ab 4.95 € innerhalb DE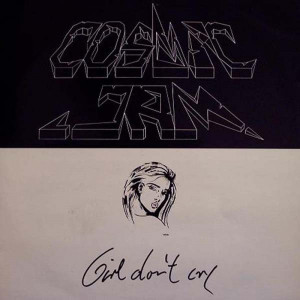 TIP
12"
Miscellaneous - EDM
EDM
WW EXCL
Another great release on BOY Records in the rebound.
Cosmic jam - Girl Don't Cry from 1988. Essential early Electro/ Hip-Hop from the german group. (re-mastered viny edition)
Teaser: https://bit.ly/3naVuRI
Artist: Cosmic Jam
Title: Girl Don't Cry
Label: BOY Records
Genre: Electro/ Hip Hop
Format: 12"
Cat: BOY8803-12-21
Release date: 19.09.2022
Tracklisting:
A. Girl Don't Cry 7:10
B1. Tell Me How You Feeling 4:05
B2. We're Jamming (Computer Style) 5:10
Produced by Michael Zosel
Written by Cosmic Jam
Re-mastered by Oliver Lieb @ Lhaudio.com
Vinyl cut by W.J. Henze @ Lhaudio.com
Worldwide exclusive manufactured ynd distributed by www.dbh-music.com
| | | |
| --- | --- | --- |
| # | Artist | Title |
| 1 | Cosmic Jam | A1. Cosmic Jam - Girl Dont Cry |
| 2 | Cosmic Jam | B1. Cosmic Jam - Tell Me How You re Feeling |
| 3 | Cosmic Jam | B2. Cosmic Jam - We´re Jamming (Computer Style) |