11.95 € inkl. MwSt. / zzgl. Versand ab 4.95 € innerhalb DE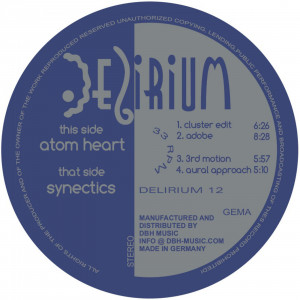 Catalog

DEL12

Title

Untitled

Artist

Atom Heart / Synectics

Label

Delirium Records

Release Date

2022-02-21
TIP
12"
Techno - Acid
Abstract
Techno
Acid
WW EXCL
DBH Music proudly welcomes legendary Delirium to the label family!
We are happy to present you a real gem from 1994 by Atom Heart and Synectics aka Marco Repetto & Stefan Riesen!
This re-mastered record will be back on vinyl in March. Highly recommended!
Please support the artists and don't feed the Discogs sharks!
Teaser: https://bit.ly/3CWOjBM
Artist. Atom Heart/ Synectics
Title: Untitled
Label: Delirium
Cat: DEL12
Format: 12"
Genre: Abstract, Techno, Acid
Release date: 21.02.2022
Tracklisting:
A1. Atom Heart - Cluster Edit
A2. Atom Heart - Adobe
B1. Synectics - 3rd Motion
B2. Synectics - Aural Approach
Worldwide exclusive manufactured and distributed by www.dbh-music.com
| | | |
| --- | --- | --- |
| # | Artist | Title |
| 1 | Atom Heart / Synectics | A1. Atom Heart - Cluster Edit |
| 2 | Atom Heart / Synectics | A2. Atom Heart - Adobe |
| 3 | Atom Heart / Synectics | B1. Synectics - 3rd Motion |
| 4 | Atom Heart / Synectics | B2. Synectics Aural Approach |