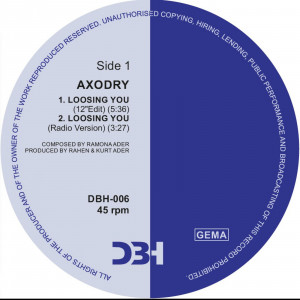 Catalog

DBH-006

Title

Loosing You

Artist

AXODRY

Label

DBH Records

Release Date

2021-10-25
TIP
12"
House
Synth-pop
House
WW EXCL
Out soon on DBH Music Records:
DBH-006 - AXODRY - LOOSING YOU (12")
Loosing You was originally released in 1991 on famous ZYX Records. Now 30 years later, we have the honour to re-issue this beauty! The record is re-mastered by Ralf Henrich (AXODRY) himself.
Teaser: bit.ly/3elTHD1
Artist: AXODRY
Title: Loosing You
Label: DBH Music Records
Format: 12"
Genre: Synth Pop/ House
Cat: DBH-006
Release date: 27.10.2021
Tracklisting:
A1. Loosing You (12" Edit)
A2. Loosing You (Radio Edit)
B1. Loosing You (Instrumental Dance Mix)
B2. Mechanic
Worldwide exclusive manufactured and distributed by www.dbh-music.com, info@dbh-music.com
Axodry was founded in Frankfurt am Main in 1983 , the founding members were Talla 2XLC and RaHen aka Ralf Henrich. The first release Feel It Right was a success (see also Sound of Frankfurt ).
RaHen and Talla 2XLC composed and programmed the debut song in RaHen's home studio .
The Westside label made the final production possible in Axel Henninger's Dynaton Studio. There RaHen later produced the songs Surrender and The Time Is Right as well as many other songs and bands for Westside with Axel Henninger . At times Kurt Ader and Alexander Maurus were part of the band. The Music Hall concert in Frankfurt am Main took place in this line-up.
Worldwide exclusive by www.dbh-music.com
| | | |
| --- | --- | --- |
| # | Artist | Title |
| 1 | AXODRY | A1. Loosing You - (12 Inch Edit) |
| 2 | AXODRY | A2. Loosing You (Radio Version) |
| 3 | AXODRY | B1. Loosing You (Instrumental Dance Mix) |
| 4 | AXODRY | B2. Mechanic |