11.95 € inkl. MwSt. / zzgl. Versand ab 4.95 € innerhalb DE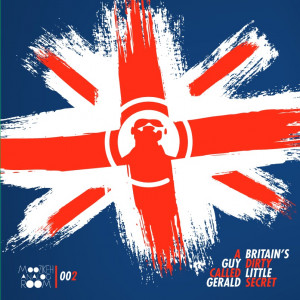 Catalog

MAR-002

Title

Britain's Dirty Little Secret

Artist

A Guy Called Gerald

Label

Analog Room

Release Date

2022-01-04
TIP
12"
Techno
WW EXCL
DBH proudly presents Moozikeh Analog Room #2 by the legend A Guy Called Gerald! It's the first release for Mr. Simpson after 5 years!
Don't sleep as we expect a fast sell out!
Teaser: bit.ly/3F0e3h6
Artist: A Guy Called Gerald
Title: Britain's Dirty Little Secret
Label: Moozikeh Analog Room
Genre: Techno
Format: 12" (vinyl only)
Cat: MAR-002
Release date: 06.12.21
Tracklisting:
A1. Old School
A2. Sugoi
B1. Flash Light
B2. False Religion
Worldwide exclusive distributed and manufactured by www.dbh-music.com; info@dbh-music.com
Britain's Dirty Little Secret is pioneering UK artist A Guy Called Gerald's first EP in
five years. It arrives exclusively on Iranian label Moozikeh Analog Room, and all
four tracks of the vinyl-only EP delve deep into Gerald's unique musical psyche.
For a number of years now, A Guy Called Gerald has largely made music only for
himself. But this special EP is borne from Gerald's unique and long-lasting
friendship with Analog Room founders Mehdi Ansari, Siamak Amidi and Salar
Ansari. They first met in 2013 when Siamak booked Gerald to play his Analog
Room party in Dubai – a leading underground light in the UAE's then emergent
scene. Away from the glossy VIP hotels and expensive bottle service parties
typically associated with Dubai, Analog Room only deals with quality bookings of
the caliber of Move D, Roman Flügel, Moritz Von Oswald and the likes. Gerald
immediately fell in love with the party. Its strict music-first, no-nonsense policy
appealed to him and he's returned many times over the years.
By then, of course, A Guy Called Gerald's musical legacy was already assured. The
Manchester icon is best known for his 1988 hit single Voodoo Ray – the
touchstone of his hometown's dawning acid house scene. As well as being an
early member of 808 State, Gerald embraced breakbeat and jungle, ran his own
Juice Box Records label and worked with the likes of Columbia, Perlon, K7! and
many other vital labels. His skills on everything from synths to keys, samplers to
drum machines stood him apart then – and still do today.
"This release is based on a real friendship," Gerald explains. "I feel part of the
Analog Room family. Back in the early days, that's how it was. These days, it's like,
'Oh, you're famous, let's do something.' I'm not interested in that. I'm not
interested in being a celebrity or living that life. I'm the same as I was 30 years
ago, all I care about is the music. With Mehdi, we have spent hours jamming in
private in Dubai, we have partied together. We've vibed together for so long and
he's shown me new parts of the world I should be making and playing music in,
away from the trendy scenes in other places. So this is an exclusive just for him.
I'm not looking at doing anything else with anyone, and the music is just about
celebrating individuality rather than trying to fit in anywhere."
When Iranian-born Mehdi decided to start Moozikeh Analog Room – which
translates from Farsi as "the music of the Analog Room" – Gerald was one of the
first artists he asked to release on the label. It might have taken some time for
Britain's Dirty Little Secret to materialize, but boy it's been worth the wait.
Says Mehdi, "The magic comes through proper relationships and friendships.
That's why Analog Room worked. It was a great room, an amazing sound system,
with amazing artists doing their thing. Bookings were so on-point because we had
agents around the world, on the dancefloors, spying up artists who were killing it,
and Gerald was one of them. He was a perfect fit from the first gig and our
friendship grew from there. He's always been very kind to me. We have this
common language of music without any bullshit, and that is where this EP comes
from."
The EP is a mixture of different things. Some of it is unreleased material from the
vaults revisited, some of it is brand new. It opens up with the devastating Old
Skool – a writhing, physical track with naughty bass. The drums hark back to
Gerald's early days of making jungle but reimagined through a modern
perspective. As the synths spray about the mix and the percussion bounces atop
the jostling drums, muttered vocals draw you in deeper. Sugoi is an experimental
track that fuses ambient synth design with the spacious and eerie atmospheres of
jungle. Nimble drums get you on your toes as the spangled synths twist and turn
in all directions. It is a thrillingly original, impossible to define track.
Flash Fight is built on a captivating rhythm that sits in the area where house,
techno and jungle intersect. It is warm and cavernous, physical yet elegant as it
bounces on rubbery kicks and lithe synths roam in and out of earshot. Perfect for
those sweaty, cozy back rooms, it's another masterclass from Gerald. Closing out
the EP is False Religion, a deep-rooted house track with elastic drums and
haunting, wispy pads. As a subtle acid bassline rises and falls way down below,
Gerald's own mystic whispers leave listeners hypnotized.
Following on from Analog Room co-founder Salar Ansari's debut release on the
label, this EP is a statement of intent. More releases will follow from some of
Analog Room's most frequent international guests, but only when the time is
right. Moozikeh Analog Room is a label of love, one that is focused on putting out
the best possible music at all times rather than chasing hype.
Britain's Dirty Little Secret EP arrives via Moozikeh Analog Room on XXX and is a
timely reminder of why A Guy Called Gerald is one of the world's most enduring
electronic artists.
| | | |
| --- | --- | --- |
| # | Artist | Title |
| 1 | A Guy Called Gerald | A1_Old School |
| 2 | A Guy Called Gerald | A2_Sugoi |
| 3 | A Guy Called Gerald | B1_Flash Fight |
| 4 | A Guy Called Gerald | B2_False Religion |