12.90 € inkl. MwSt. / zzgl. Versand ab 4.95 € innerhalb DE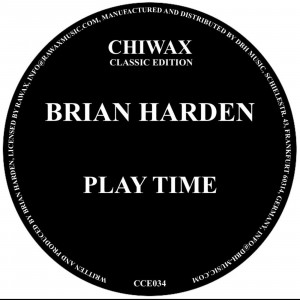 TIP
12"
House
House
WW EXCL
RAWAX proudly welcomes Brian Harden to the label family! We are very happy to present you one of his most wanted releases back on vinyl early 2021! It's the re-mastered version of "Play Time", which came originally out on legendary Relief Records in 1995!
Don't miss!
Teaser: https://bit.ly/37S6D06
Artist: Brian harden
Title: Play Time
Label: Chiwax Classic Edition
Format: 12"
Cat: CCE034
Release date: 10.02.2021
Tracklisting:
A1. Play Time
A2. Come On
B1. Animal Instincts
B2. Simon's Revenge
w+p by Brian Harden
Mastering by Oliver Lieb @ Lhaudio.com
Cut by W,J. Henze @ Lhaudio.com
Worldwide exclusive distributed by www.dbh-music.com; info@dbh-music.com
CHIWAX CLASSIC EDITION is a division of RAWAX, info@rawaxmusic.com
| | | |
| --- | --- | --- |
| # | Artist | Title |
| 1 | Brian Harden | A1. Brian Harden - Play Time |
| 2 | Brian Harden | A2. Brian Harden - Come On |
| 3 | Brian Harden | B1. Brian Harden - Animal Instincts |
| 4 | Brian Harden | B2. Brian Harden - Simons Revenge |