12.90 € inkl. MwSt. / zzgl. Versand ab 4.95 € innerhalb DE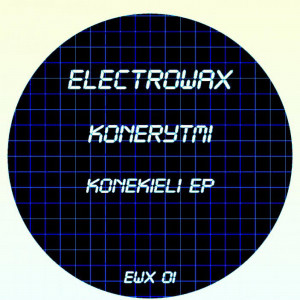 TIP
12"
Electro
Electro
WW EXCL
RAWAX got a new baby called ELECTROWAX!
We love the genre and now it became an own platform!
Starting with Kirill Junolainen aka Konerytmi from Saint Petersburg.
And as it's the first release, we celebrate it with 6 tracks!
More music for you :)
Teaser: Dbh-music – Ewx01-konerytmi-konekieli-ep-electrowax
Artists: Konerytmi
Title: Konekieli EP
Label: ELECTROWAX
Genre: Electro
Format: 12"
Cat: EWX01
Tracklisting:
A1. Konerytmi - Pori Jazz
A2. Konerytmi - Ikkunat
A3. Konerytmi - Sokeri
B1. Konerytm - Konekieli
B2. Konerytmi - Yökilpailu
B3. Konerytmi - Koodi
ELECTROWAX is a division of RAWAX; info@rawaxmusic.com
Worldwide exclusive by www.dbh-music.com; info@dbh-music.com
| | | |
| --- | --- | --- |
| # | Artist | Title |
| 1 | Konerytmi | A1. Konerytmi - Pori Jazz |
| 2 | Konerytmi | A2. Konerytmi - Ikkunat |
| 3 | Konerytmi | A3. Konerytmi - Sokeri |
| 4 | Konerytmi | B1. Konerytmi - Konekieli |
| 5 | Konerytmi | B2. Konerytmi - Yokilpailu |
| 6 | Konerytmi | B3. Konerytmi - Koodi |