11.95 € inkl. MwSt. / zzgl. Versand ab 4.95 € innerhalb DE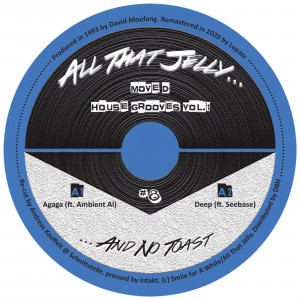 Title
House Grooves Vol. 1
TIP
12"
House
House
WW EXCL
Teaser: https://bit.ly/33fHTgR
Artist: Move D
Title: House Grooves Vol. 1
Label: All That Jelly
Release Date: Jan 31, 2021
Catalogue No.: ATJ 008 press contact: david@smileforawhile.de
artwork by Lecsicu
Distributed by DBH
Remastered by Lopazz, cut by Andreas Kauffelt
originally released on Time Unlimited, 1993.
Copyright: Smile for a while, licensed from David Moufang
Tracklisting (in order):
A1 – Agaga ft. Ambient Al (Remastered)
A2 – Deep ft. See Base (Remastered)
B1 – I Gave My Love (Remastered)
B2 – Babyphonk (Remastered)
Move D has seen a massive career over the years, starting with his early days as a German pioneer of House Music. In 1993 this was one of his first 12" records on TIME UNLIMITED which was mostly known for Trance and Hard Trance. This surely is a cult record and has become highly sought after over the last ten years. Its unique style of sampling comined with an uplifting, basement style production is still mindbending and timeless. This reissue was remastered by David's long-term friend LOPAZZ for a full range sound experience.
Worldwide exclusive distributed by www.dbh-music.com
| | | |
| --- | --- | --- |
| # | Artist | Title |
| 1 | Move D | A1 Agaga - snippet |
| 2 | Move D | A2 Deep - snippet |
| 3 | Move D | B1 I gave My Love - snippet |
| 4 | Move D | B2 Babyphonk - snippet |