Dan Bay & Krystyna
Fieser Niesel EP - Avem & B.Fehr RMXS)
ZIP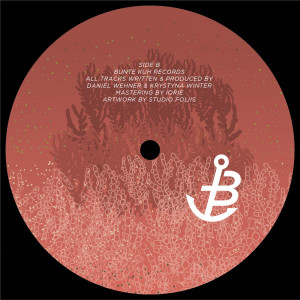 Catalog

bk017

Title

Fieser Niesel EP - Avem & B.Fehr RMXS)

Artist

Dan Bay & Krystyna

Label

Bunte Kuh

Release Date

2020-11-12
12"
Tech House
tech house
WW EXCL
bk017
Label: Bunte Kuh
Artist: Dan Bay & Krystyna
Titel: Fieser Niesel EP
Release date: 13.11.20
Tracks:
Tracks:
A1 Reise ins Universum
A2 Reise ins Universum (AVEM Remix)
B1 Fieser Niesel
B2 Fieser Niesel (Benjamin Fehr Remix)
After his first appearance on the "Plankton" Compilation (BK014 July 2020) frankfurt based Dan Bay signed his first solo EP on Bunte Kuh. The "Fieser Niesel" EP will be released on Vinyl and as a digital edition including 2 bonus tracks. Dan is also performing as a DJ or liveact with E-drum - he already released on Laut & Luise, Wayu Records, Leveldva, Finebeatz and Heimlich Musik. The EP also introduces the iconic female DJane Krystyna - the former Robert Johnson resident is giving her debut as a producer.
The first track "Reise ins Universum" is a dreamy journey thru his universe of minimalistic music - endless, relaxing and trippy. The title track "Fieser Niesel" is way more rolling with dark basslines and short bleeps - an overall great dancefloor workout. Next is AVEM´s Remix of "Reise ins Universum" - Boris (who already released on Underyourskin, LOKD and Heimlich) added his unique signature - a fabolous 9 minute adventure full of melodies & deep grooves.
Benjamin Fehr - a berlin based active producer since 15+ years - treated "Fieser Niesel" and maybe this track is the surprise of the EP - a glitchy & bleepy adventure that follows the roots of good old Robag Wruhme Tracks. "Jimi Nagel" is the first out of 2 digital only tunes - something for the early after hours while "123" is more suitable for the real club hours.
| | | |
| --- | --- | --- |
| # | Artist | Title |
| 1 | Dan Bay & Krystyna | A1 Dan Bay & Krystyna - Reise ins Universum (Original Mix)Snippet |
| 2 | Dan Bay & Krystyna | A2 Dan Bay & Krystyna - Reise ins Universum (AVEM Remix)Snippet |
| 3 | Dan Bay & Krystyna | B1 Dan Bay & Krystyna - Fieser Niesel (Original Mix) Snippet |
| 4 | Dan Bay & Krystyna | B2 Dan Bay & Krystyna - Fieser Niesel (Benjamin Fehr Remix)Snippet |