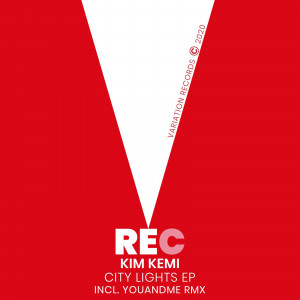 Catalog

VR-005

Title

City Lights EP (incl. youANDme RMX)

Artist

Kim Kemi

Label

variation records

Release Date

2020-10-28
TIP
12"
House
House
Acid
Tech
Deep & Indie
WW EXCL
Artist: Kim Kemi
Title: City Lights EP
Remixes: youANDme
Genre: House,Acid, Tech, Deep & Indie
Cat: VR-005
Releases Date: 19.10 . 2020
Tracklist:
A1: City Lights
A2: City Lights (youANDme rmx)
B1: Best Deal
B2: Dark Rum & Umbrellas
Copenhagen veteran DJ and always a joy to witness behind the
decks, Kemi Kemi, debuts on Variation Records with a four-tracker
of deep but yet uplifting goodness. 'City Lights', the lead title from the EP, easily enthralls you thanks to a mixture of precise stabs, rolling basslines and a blissful string arrangement. Grab your beachball, mix a cold drink and head straight to the nearest open-air party.
Martin Müller aka YouANDme adds some fine-tuned acid into the
mix, which fits the ambience of the original like a glove. Perfect for
late night escapades at Panorama Bar and other delightful temples
of sin around the globe. 'Best Deal' centers itself around percussive elements, a robovoice and a continuously appear-and-disappear glockenspiel theme, which brings to mind some of Jeff Mills' more calmer works.
Wrapping up this summery package, is 'Dark Rum And Umbrellas'.
Big feels from the 80's with candlelight rhodes theme, throbbing
bassline and a cruise to Key West from Miami with Sonny Crockett
and The Jets riding along in the cabriolet.
Kim Kemi certainly feels at home in the deeper realms of things and
masters the style with ease.
| | | |
| --- | --- | --- |
| # | Artist | Title |
| 1 | Kim Kemi | Kim Kemi -City Lights(snippet) |
| 2 | Kim Kemi | Kim Kemi - City Lights(youANDme rmx)snippet |
| 3 | Kim Kemi | Kim Kemi - Best Deal (Snippet) |
| 4 | Kim Kemi | Kim Kemi - Dark Rum & Umbrellas (Snippets) |