Kollektiv Turmstraße
Rebellion der Träumer
ZIP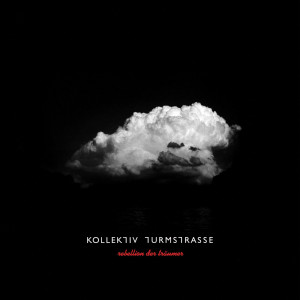 Catalog

cns006-3

Title

Rebellion der Träumer

Artist

Kollektiv Turmstraße

Label

Connaisseur Recordings

Release Date

2020-11-20
TIP
12"
2x12" gatefold black vinyl
Tech House
tech house
WW EXCL
Label: Connaisseur Recordings
Kat-Nr: cns006-3
Artist: Kollektiv Turmstrasse
Titel: Rebellion der Träumer (repress)
Format: 2x12" Gatefold (black vinyl version / red vinyl version)
Release date: 20.11.2020
Tracks:
A1: Affekt
A2: Sphäre
A3: Kontakt
B1: Deine Distanz
B2: Was Bleibt
C1: Heimat
C2: Uneins*
C3: Schwindelig
D1: Goldmarie*
D2: Addio Addio
* w./ Florian Schirmacher
In November 2010, we released Kollektiv
Turmstrasse's "Rebellion der Träumer" - a timeless
album with a major impact on both the artists and on
us, the label. It was a big success in every direction and
even now after 10 years, the album still is a milestone.
Reason enough for us to celebrate the 10th
anniversary of the two German northener's debut
album both with a long awaited repress of the double
vinyl, as well as a fresh round of remixes.
The repress comes in three versions: A regular
repress in black vinyl, a limited version in red vinyl and
a third version featuring something very unique. We
asked the legendary German illustrator duo
Bringmann & Kopetzki, mostly known for their comics
Hotze (Groove Mag) and Wild Life (Faze Mag), to
"remix" the artwork. This very limited edition will be
available exclusively on the Connaisseur Bandcamp
page.
Some feedback from back in the days...
Hot Chip: "Some great melodies and some beautiful sounds on
there.."- Jimpster: "Great stuff all round" - Joris Voorn: "It's
quite impressive, very nice melodies and deep melodic
production, a real listening experience! " - Caribou: "Sounds
cool!" - Laurent Garnier: "A superb album that i will listen over
and over" - Roberto Rodriguez (Manolo): "Really exciting
debut album. top notch electronica for the darkening autumn
nights. It gets better and better every time i listen to it." -
Solomun: "A beautiful piece of Music" - Markus Kavka: "In
dieser Platte stecken so viel Liebe, Sehnsucht und große Gefühle,
dass man nicht mehr von ihr weg kommt. Rebellion der Träumer"
ist eine ganz große Platte." Nick/ Juno: "A stunning new
melancholy direction for Kollektiv Turmstrasse" - Makossa /
FM4 Austria: "erwachsen und chillig" - Jason/ Proton
Radio: "Kollektiv Turmstrasse are simply my favorite outfit in our
scene today, and this album exemplifies why: theatrical, organic
music that has no equal" - Ripperton: "This album turns
around on my player since you sent it to me. " - Ben/
Datatransmission: "This album is stuning ! " – Klaus
Fiehe/ 1Live: " Das Album ist ne echte Überraschung, ich mag
diese ambient sich langsam aufbauenden Tracks sehr"
| | | |
| --- | --- | --- |
| # | Artist | Title |
| 1 | Kollektiv Turmstraße | A1 Kollektiv Turmstrasse - AFFEKT (snippet) |
| 2 | Kollektiv Turmstraße | A2 Kollektiv Turmstrasse - SPHÄRE (snippet) |
| 3 | Kollektiv Turmstraße | A3 Kollektiv Turmstrasse - KONTAKT (snippet) |
| 4 | Kollektiv Turmstraße | B1 Kollektiv Turmstrasse - DEINE_DISTANZ (snippet) |
| 5 | Kollektiv Turmstraße | B2 Kollektiv Turmstrasse - WAS_BLEIBT (snippet) |
| 6 | Kollektiv Turmstraße | C1 Kollektiv Turmstrasse - HEIMAT (snippet) |
| 7 | Kollektiv Turmstraße | C2 Kollektiv Turmstrasse & Florian Schirmacher - UNEINS (snippet) |
| 8 | Kollektiv Turmstraße | C3 Kollektiv Turmstrasse - SCHWINDELIG (snippet) |
| 9 | Kollektiv Turmstraße | D1 Kollektiv Turmstrasse & Florian Schirmacher - GOLDMARIE (snippet) |
| 10 | Kollektiv Turmstraße | D2 Kollektiv Turmstrasse - Addio Addio (snippet) |