TiTLEZ & Mirlaqi
Traveling Beyond Moving
ZIP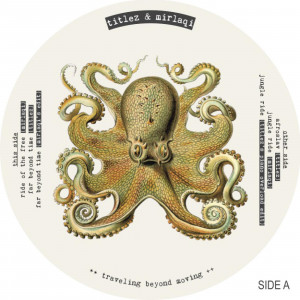 Catalog

fxrd010

Title

Traveling Beyond Moving

Artist

TiTLEZ & Mirlaqi

Label

foxy red

Release Date

2020-09-28
12"
Tech House
house / tech house
WW EXCL
TiTLEZ & Mirlaqi to release their new collaborative EP "Traveling Beyond Moving"
Foxy Red Recordings
TiTLEZ & Mirlaqi
Traveling Beyond Moving
September 25th 2020
FXRD010, UPC: 0661708740508
12" Vinyl, digital, streaming
www.foxy-red.com | www.titlez.info
Foxy Red Recordings is proud to announce their next release
consisting of 6 deep & funky tunes by TiTLEZ & Mirlaqi!
TiTLEZ's & Mirlaqi's "Traveling Beyond Moving" EP is an EP
split over 6 tracks which is comprised of 2 original productions
from each producer and 2 tracks where the producers
get to grips with the others productions to wonderful effect.
Over the course of the EP we find influences reaching
from hazy low slung house grooves to clever
intricate organic musical numbers, to classic leaning
house of the New York variety. It's often hard to
merge two producers together over an EP, but this one
here feels like an effortless coordination between Ti-
TLEZ & Mirlaqi orchestrated to perfection by Foxy Red
The Record sounds Like: having an acid trip on
a train ride from Tayga to Timbuktu while listening
to Thom Yorke's voice on a Jimpster's beat
on a record Folamour gave you for your birthday.
"You feel like dancing. It's been a long time since you've
been to a club, in a crowd, your face gently stroked by the
rays coming straight from the heart of a disco ball, having
conversations in languages you don't even know. Your
eyelids close for a while. You wake up on a train. Going
through a forest, dense, ancient, luscious green, moist. It's
getting dark. The trees spin their nighttime stories, from another
world, far beyond time. Trumpets, saxophone, drums.
Close your eyes. You're in a distant land, far from home,
watching a sacred ritual. A soft female voice leads you deep
into the jungle. Animals of colors you cannot name are
paving your way into the unknown. You are the unknown.
You're them. You. Are. Focus! You're awake … Are you?"
- F*U COVID-19, Traveling Begins in Your Mind!
TiTLEZ is a driven, talented, and diverse music producer
whose sound is influenced by classic House
sounds of Chicago, African rhythms, Latin grooves,
and jazz, which all play a vital role on his tracks.
As a result of these kaleidoscopic influences, TiTLEZ developed
a unique blend of deep house with a tech and
afro twist with an edgy and authentic feel. His work is
all about telling stories and conveying that deep, warm
feeling to his audience. TiTLEZ's tracks stand out for
their diverse approach and catchy vibes, showcasing
world-class production aesthetics and excellent musicianship
from this artist. His aim is to truly connect
with listeners, offering sophisticated and deep music,
while still remaining appealing to the mainstream crowd.
» Spatial house from disco planet - Mirlaqi's creed almost
sums it all: his art consists in a subtle mix between deep
musicality and powerful groove. Be it in a DJ set or for a
live set combining drum machines and keyboards, the producer
invites you for a delightfull expedition through dance
music's numerous declinations : house and disco, as well as
drops of techno, hints of ethnic music and touches of jazz.
Traveling Beyond Moving | Tracklist:
01... Mirlaqi - Ride of The Free.................................7:00
02... TiTLEZ - Far Beyond Time................................6:48
03... TiTLEZ - Far Beyond Time (Mirlaqi's Edit)......6:28
04... TiTLEZ - Afroslav................................................7:10
05... Mirlaqi - Jungle Ride...........................................6:59
06... Mirlaqi - Jungle Ride ...................................................
(TiTLEZ's Piano Overload Edit)...................................5:28
| | | |
| --- | --- | --- |
| # | Artist | Title |
| 1 | TiTLEZ & Mirlaqi | A01_Mirlaqi - Ride Of The Free |
| 2 | TiTLEZ & Mirlaqi | A02_TiTLEZ - Far Beyond Time |
| 3 | TiTLEZ & Mirlaqi | A03_TiTLEZ - Far Beyond Time (Mirlaqis Edit) |
| 4 | TiTLEZ & Mirlaqi | B01_TiTLEZ - Afroslav |
| 5 | TiTLEZ & Mirlaqi | B02_Mirlaqi - Jungle Ride |
| 6 | TiTLEZ & Mirlaqi | B03_Mirlaqi - Jungle Ride (TiTLEZs Piano Overload Edit) |