13.90 € inkl. MwSt. / zzgl. Versand ab 4.95 € innerhalb DE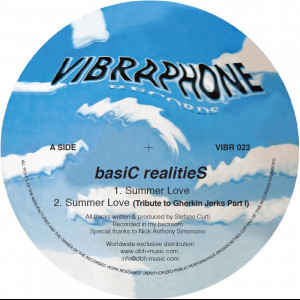 Title
Summer Love (incl. Gherking Jerks aka Larry Heard Remixes)
TIP
12"
House
House
WW EXCL
We are delighted to present you the upcoming VIBRAPHONE #23 by basiC realitieS - Sommer Love/ Desert Valley (12")
An incredible release by Stefano Curti including two remixes by Master Larry Heard aka Gherkin Jerks. Highly recommended!
Teaser: https://bit.ly/3nmQasm
Artist: basiC realitieS
Title: Summer Love/ Desert Valley
Label: Vibraphone Records
Additional remixes by : Gherkin Jerks aka Larry heard
Genre: House
Format: 12"
Cat: VIBR023
Release date: 30.06.2021
Tracklisting:
A1. Summer Love
A2. Summer Love (Gherking Jerks Tribute Mix 1)
B1. Desert Valley
B2. Deseret Valley (Gherking Jerks Tribute Mix 2)
Worldwide exclusive distributed by www.dbh-music.com, info@dbh-music.com
| | | |
| --- | --- | --- |
| # | Artist | Title |
| 1 | basiC realitieS | A1. Summer Love |
| 2 | basiC realitieS | A2. Summer Love (Gherking Jerks Tribute Mix 1) |
| 3 | basiC realitieS | B1. Desert Valley |
| 4 | basiC realitieS | B2. Deseret Valley (Gherking Jerks Tribute Mix 2) |