Murat Uncuoglu & Alican
No End
ZIP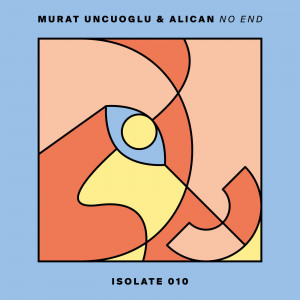 Catalog

iso010

Title

No End

Artist

Murat Uncuoglu & Alican

Label

ISOLATE

Release Date

2020-09-18
12"
Tech House
tech house
WW EXCL
ISO010
Artist(s): Murat Uncuoglu & Alican
Title: No End
Label: Isolate
Format: Vinyl + Digital
Catalog: Isolate 010
Release Date: Beatport Pre-order: 04.09
Digital & Vinyl: 18.09
All stores: 02.10
Worldwide
Distribution: Paradise Distribution
As we slowly creep out of social isolation, Isolate
remain where they've always been: in their own unique
lane, serving up majestic electronic music from their
Istanbul HQ. And for this particular trip, the labels tenth
and their first vinyl release, the Isolate bosses are
driving: Murat Uncuoglu & Alican.
'No End' starts the march. Stately, uplifting and just the
right amount of triumph. It's loaded with spiralling
hooks that make you reach further than your arm's
length, make you look further than your eyes reach,
make you hope more than conventional reality usually
allows. This is sound of post-lockdown dancefloors
around the world.
'Patchwork' follows. A darker, prowling slab of pristine
synth drama with a plucked bassline and all kinds of
flourishing twirls and diversions, within seconds it
ensures heads are down and bodies are locked into the
groove. Don't believe the title; this one's seamless….
And so is the grand finale track 'Big Wishes'.
Signing out with a powerfully positive piece; 'Big
Wishes' takes all the weirdness and tension of the last
four months, screws it up tightly into a strange trippy
ball then throws it so high in the air it turns to dust in the
atmosphere. A true set highlight that will have your
crowd wondering what hit them.
Three immense stories, two articulate storytellers, one
beguiling label. Isolate remain in their own unique lane.
LINKS:
Murat Uncuoglu:
linktr.ee/muratuncuoglu
Alican:
linktr.ee/alican
Isolate:
linktr.ee/isolate
Early support from
John Digweed, Musumeci, Lehar, Echonomist, Audiofly, Hernan Cattaneo, Dave Seaman, Nick Warren, Tim
Engelhardt and Enzo Elia.
| | | |
| --- | --- | --- |
| # | Artist | Title |
| 1 | Murat Uncuoglu & Alican | ISO010 snippets - 1 - no end |
| 2 | Murat Uncuoglu & Alican | ISO010 snippets - 2 - patchwork |
| 3 | Murat Uncuoglu & Alican | ISO010 snippets - 3 - big wishes |