Teruyuki Kurihara
Frozen Dust
ZIP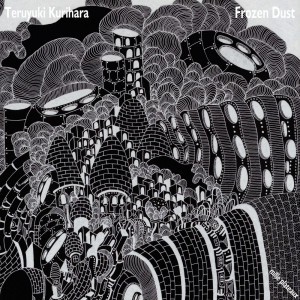 Catalog

MP4

Title

Frozen Dust

Artist

Teruyuki Kurihara

Label

Mille Plateaux

Release Date

2020-10-12
TIP
12"
2xLP
Electronica - Ambient
Ambient
Electronic
WW EXCL
Mille Plateaux
MP 4 Teruyuki Kurihara Frozen Dust
»Frozen Dust« is an album unified by the theme of »destruction« and »creation.« Inspired by the power of nature; we've expressed how we humans overcome the magnificent phenomena and impacts nature has on us - while it brings us joy, it can sometimes take away our lives and pleasures, We've incorporated this rather difficult theme by telling stories of fictional characters in the album; an adventurer in the Arctic region who confronts the threat of nature and survives between life and death, or a widow who never eases the pain of losing her sailor husband by a great storm in the Age of Discovery. »Frozen Dust« is our manifestation of »destruction« and »creation and each sound brings you the essence of it.
1.COIN TRAP 05:36
2.Down 06:48
3.Blurry Wind 09:00
4.Foggy 06:08
5.Glide 05:00
6.D - W 04:22
7.Krgecr-A09 02:33
8.Frozen Dust 09:00
9.LOST 03:44
10.
Reviews in The Wire, A Closer Listen, MixMag Japan, ResidentAdvisor Japan, African Paper and more
Interview in Data Wave
| | | |
| --- | --- | --- |
| # | Artist | Title |
| 1 | Teruyuki Kurihara | A1. Coin Trap |
| 2 | Teruyuki Kurihara | A2. Down |
| 3 | Teruyuki Kurihara | B1. Blurry Wind |
| 4 | Teruyuki Kurihara | B2. Foggy |
| 5 | Teruyuki Kurihara | C1. Gilde |
| 6 | Teruyuki Kurihara | C2. D-W |
| 7 | Teruyuki Kurihara | C3 - Krgecr-A09 |
| 8 | Teruyuki Kurihara | D1. Frozen Dust |
| 9 | Teruyuki Kurihara | D2. Lost |
| 10 | Teruyuki Kurihara | D2. Lost |
| 11 | Teruyuki Kurihara | D3. I krgec-A34+gt |