A-Delta
Hôtel Costes presents…Port De L'Arsenal
ZIP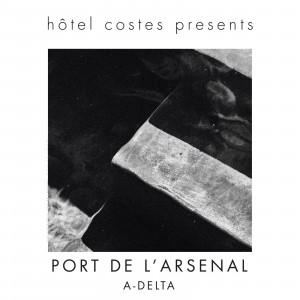 Catalog

HCLP005

Title

Hôtel Costes presents…Port De L'Arsenal

Artist

A-Delta

Label

Hôtel Costes

Release Date

2020-07-17
12"
Electronica - Ambient
ambient / classical / electro
WW EXCL
Artist A-Delta
Title Hôtel Costes presents…Port De L'Arsenal
Label Hôtel Costes
Format Vinyl // Stream
Cat.no.: HCLP005
EAN
Release date
File Under Ambient, Classical & Jazz music
TrackListing A1. On A Recontré
A2. Un Musicien
A3. Charmant
B1. L'Autre Soir
B2. A Paris
B3. Port De L'Arsenal
B4. Une Chance
« Hôtel Costes presents... » is a collection of exclusive music recorded and mixed at STUDIO HC, somewhere in Hôtel Costes.
The Hotel Costes Presents… Studio HC series delivers its fifth long player late May, coming courtesy of A-Delta with their 'Port De L'Arsenal' album.
A-Delta is the collaborative guise of Studio HC's driving force Adrien De Maublanc and jazz guitarist David Mechali, a sonic synergy which sees the pair skilfully fuse intricate electronics with soul-infused guitar work. The result is a dynamic twist on a classic downtempo aesthetic.
Throughout the project De Maublanc and Mechali meld together glitched out percussion, expansive delayed guitar licks and warm low-end tones. From the ever-unfolding, freeform jazz feel of tracks like opener 'On A Renconte', 'L'Autre Soir' and title-cut 'Port De L'Arsenal' through to more subtly nuanced contributions like 'Charmant', 'Un Musicien', 'A Paris' and 'Une Chance' the pair
deliver a touch of class and sophistication with a nod to classic jazz composition.
| | | |
| --- | --- | --- |
| # | Artist | Title |
| 1 | A-Delta | A1 - A-Delta - On A Recontre |
| 2 | A-Delta | A2 - A-Delta - Un Musicien |
| 3 | A-Delta | A3 - A-Delta - Charmant |
| 4 | A-Delta | B1 - A-Delta - LAutre Soir |
| 5 | A-Delta | B2 - A-Delta - A Paris |
| 6 | A-Delta | B3 - A-Delta - Port de LArsenal |
| 7 | A-Delta | B4 - A-Delta - Une Chance |