10.95 € inkl. MwSt. / zzgl. Versand ab 4.95 € innerhalb DE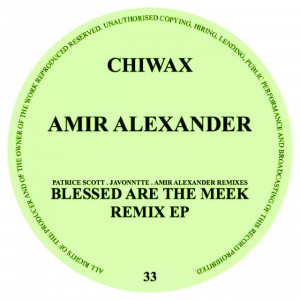 Title
Blessed Are The Meek (incl. Patrice Scott & Javonntte RMXS)
TIP
12"
House
House
WW EXCL
RAWAX proudly welcomes Amir Alexander to the Family! We are very happy to present you an outstanding release as one of many! It's Amir's biggest Hit called "Blessed Are The Meek" which became a retouch by Patrice Scott, Javonntte and Amir himself! Highly recommended!
Artist: Amir Alexander
Title: Blessed Are The Meek
Remixes by: Patrice Scott, Javonntte, Amir Alexander
Label: CHIWAX
Fortmat: 12"
Cat: CHIWAX033
Genre: House
Tracklisting:
A1. Blessed Are The Meek (Patrice Scott Remix)
A2. Blessed Are The Meek 2 (Amir's Piano Re-Fix)
B1. Blessed Are The Meek (Javonntte Mix)
B2. Blessed Are The Meek (Amir's Hard Piano Banger)
Worldwide exclusive distributed by DBH Music (www.dbh-music.com)
| | | |
| --- | --- | --- |
| # | Artist | Title |
| 1 | Amir Alexander | A1. Patrice Scott RMX |
| 2 | Amir Alexander | A2. Amirs Piano Re-fix |
| 3 | Amir Alexander | B1. Javonntte RMX |
| 4 | Amir Alexander | B2. Amirs Hard Piano Banger |