ECRITURE AUTOMATIQUE
Balade Toi
ZIP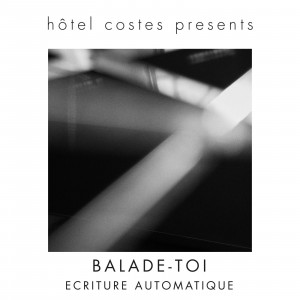 Catalog

HCLP003

Title

Balade Toi

Artist

ECRITURE AUTOMATIQUE

Label

Hôtel Costes

Release Date

2020-02-24
TIP
12"
12" lp
Electronica - Ambient
ambient / classical / electro
WW EXCL
Artist ECRITURE AUTOMATIQUE
Title BALADE TOI
Label Hôtel Costes
Format Vinyl // Stream
Cat.no.: HCLP003
EAN
File Under Ambient, Classical & Jazz music, Electro
TrackListing 1. Reveur
2. Balade Toi
3. Double A
4. Le Bien Veillant
5. Passage 2
6. Faire De Son Mieux
7. La Parole Impeccable
8. Pas De Supposition
«Hôtel Costes presents... » is a collection of exclusive music recorded at STUDIO
HC, the hotel studio.
Early November will see the release of Ecriture Automatique's 'Balade-Toi' LP, the
fourth long player in the Studio HC release series.
The 'Balade-Toi' LP is a selection of recordings composed by Ecriture Automatique
aka Adrien De Maublanc and Adrien Boisseau and featured artist Latica Anić. Adrien
Boisseau is a friend of Julien Quentin who Adrien De Maublanc had worked with on
the Midiminuit project. Soon after the pair met De Maublanc invited Boisseau and
his viola to the studio for an early morning session and proposed an approach
consisting of layering several stems of him playing the instrument. Cloning him
over and over allowed them to create a polyphonic atmosphere that melted into a
giant meditation like theme mixed with pizzicato ballads. Boisseau then ended up
inviting his friend Laetitia, a cello player who had witnessed the creative process
and got enthusiastic to participate.
The result can be heard here across eight tracks all of which feature solely
acoustic instruments, the first of its kind in the Studio HC series. Across the
package you can hear haunting, subtly unfurling tracks like opener 'Reveur',
'Double A', 'Passage-2', 'Faire De Son Mieux' and closing track 'Pas De
Supposition' encompassing drawn out viola textures, mesmeric slowly bowed strings
from the Cello and a blooming dynamism throughout.
Further contributions come in the shape of title-track 'Balade Toi' with its
plucked strings, psychedelic resonance from a Sansula Kalimba and metallic
percussive chimes. 'Le Bien Veilant' and its otherworldly voice like chants,
vibrato textures and looping plucks and finally 'La Parole Impeccable' with its
cinematic, classical feel dynamically evolving and retracting through swirling
strings, vacillating viola tones and airy wind pulsations across five and half
minutes.
ABOUT HOTEL COSTES…
Hôtel Costes has a glorious history with its eponymous 15 CDs releases that stood
among Buddha Bar and Cafe del Mar as the reference for lounge music. With
Masomenos, they also have launched the "Costes presents mini-series," a more
underground minimal oriented collection.
Another chapter is now opening with STUDIO HC thats acts
- AS A LABEL , releasing a series of albums and eps produced and mixed in this
#somewhereinhôtelcostes RECORDING STUDIO where Masomenos welcomes both classical
and jazz musicians, merging into different entities to become merely conductors,
unearthing a wide array of various bands, and creating an intriguing yet warm,
acoustic and electronic, downtempo/ambient sound
- AS A CURATOR, putting up monthly the Radio Costes Playlists that streams on Apple
Music and Spotify a broad genre selection reflecting a day at the hôtel
- AS A BROADCASTER, airing live jam from the studio to the hôtel.
| | | |
| --- | --- | --- |
| # | Artist | Title |
| 1 | ECRITURE AUTOMATIQUE | A1 REVEUR |
| 2 | ECRITURE AUTOMATIQUE | A2 BALADES TOI |
| 3 | ECRITURE AUTOMATIQUE | A3 DOUBLE A |
| 4 | ECRITURE AUTOMATIQUE | A4 LE BIEN VEILLANT |
| 5 | ECRITURE AUTOMATIQUE | B1 PASSAGE |
| 6 | ECRITURE AUTOMATIQUE | B2 FAIRE DE SON MIEUX |
| 7 | ECRITURE AUTOMATIQUE | B3 LA PAROLE IMPECABLE |
| 8 | ECRITURE AUTOMATIQUE | B4 PAS DE SUPOSITION |