14.90 € inkl. MwSt. / zzgl. Versand ab 4.95 € innerhalb DE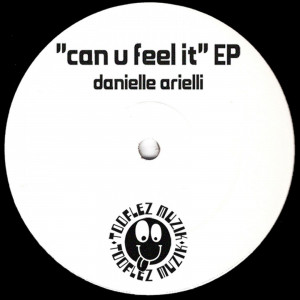 Catalog

TFZ005

Title

Can U Feel It EP

Artist

Danielle Arielli

Label

Tooflez Muzik

Release Date

2020-02-03
TIP
12"
House
House
WW EXCL
Tooflez Muzik is a Berlin based label that stretches the boundaries and borders of
club music. They are presenting their first vinyl release by label head Danielle
Arielli.
Tooflez Muzik was born in Berlin in winter 2016. A need for quality and diverse
house music plus day long parties were the driving factor of the labels birth.
Combining different flavours of house music, from deep house and acid house to
ghetto tech and beyond, Tooflez Muzik is focussed on quality over genres.
The Berlin label delivers the 4 tracker, hand stamped and produced by Danielle
Arielli. Danielle delves into the realms of house music, combining a taste of the old
school and the new school with her own touch of soulful and jacking house.
A1: "Can U Feel It", is a perfect description of Danielle's take on acid house.
Characterized by synth stabs and acid lines in combination with mesmerising
vocals by Adora Odilli make this the perfect dance floor filler.
A2: The "Backseat Mix", can be used as a bass bumping DJ tool or a soundtrack
for the sheets, focusing on vocals backed up by funky percs and smooth melody.
B1: "Gettem Down", brings us back to the dance floor. Rolling acid basslines,
cheeky drums and a funky vocal cut, make this an excellent prime time number.
B2: The River", takes you on a a deep journey as the chords and synth lines
develop. It is a definite deep groover supported once again by singer Adora Odilli.
Saving the best for last, as they say…
| | | |
| --- | --- | --- |
| # | Artist | Title |
| 1 | Danielle Arielli | A1-SNIPPETS_Danielle Arielli-Can U Feel It EP [Tooflez Muzik] |
| 2 | Danielle Arielli | A2-SNIPPETS_Danielle Arielli-Can U Feel It EP [Tooflez Muzik] |
| 3 | Danielle Arielli | B1-SNIPPETS_Danielle Arielli-Can U Feel It EP [Tooflez Muzik] |
| 4 | Danielle Arielli | B2-SNIPPETS_Danielle Arielli-Can U Feel It EP [Tooflez Muzik] |