24.90 € inkl. MwSt. / zzgl. Versand ab 4.95 € innerhalb DE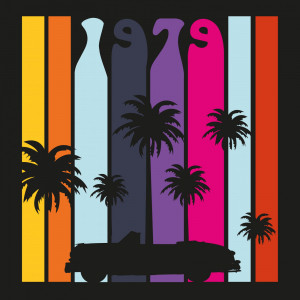 Label
Cameleon Collective Recordings
Artist
Cameleon Collective
TIP
12"
2x12
Miscellaneous - Pop
Jazz
Pop
WW EXCL
LABELNAME_ Cameleon Collective Recordings
ARTIST_ Cameleon Collective
TITEL 1979 LP
CATALOGUE NO_ CC001
FORMAT_ vinyl, digital
GENRE_ Jazz
RELEASE DATE_ 18.04.20
TRACKLISTING_
A1 AMer-You
A2 LiRle_Secrets
A3 Snowbal
B1 Small Town King 1979
B2 Blue Sky Thinking
B3 DriMing Thru
C1 One Fine Day
C2 Teflon Kid
C3 Why
D1 Ghost Of Ze
D2 Small Town (King remix)
Brand New Grooves, Fresh from the Old School
Special Gatefold 11-Track, 12" Vinyl Edi1on
Fresh from Anglo-Portuguese groovers Chameleon Collective comes 1979: a double slab of 12" vinyl oozing deep down
and dirty funk grooves, jazz-inflected licks and the pure, unsullied essence of late 70s, West Coast US jazz-influenced
pop.
Drawing inspira1on from – and paying homage to – the music and vibes of Steely Dan, The Crusaders, Herb Alpert, Joni
Mitchell, Sergio Mendes, George Duke and Miles Davis, 1979 is one big 'high five' to HiFi. Digitally recorded at pris1ne
96/24 resolu1on for uncompromised magnificence and mixed by Andy Bradfield (Elbow), it's pressed the old-fashioned
way for superb aural depth and purity.
So who are Chameleon Collective? Multiple platinum album-winning UK-based record producer Jonathan Miller (EMI/
Universal Music) for one… along with the incomparable tones of Portuguese singer Maria Leon, trumpeter MaR Holland,
best known for his work with Van Morrison's band, members of seminal ounits such as Incognito and many more
members of a truly stellar cast.
| | | |
| --- | --- | --- |
| # | Artist | Title |
| 1 | Cameleon Collective | 01. After You |
| 2 | Cameleon Collective | 02. Little Secrets |
| 3 | Cameleon Collective | 03. Snowball |
| 4 | Cameleon Collective | 04. Small Town King |
| 5 | Cameleon Collective | 05. Blue Sky Thinking |
| 6 | Cameleon Collective | 06. Drifting Thru |
| 7 | Cameleon Collective | 07. One Fine Day |
| 8 | Cameleon Collective | 08. Teflon Kid |
| 9 | Cameleon Collective | 09. Why_ |
| 10 | Cameleon Collective | 10. Ghost Of Zeca Afonso |