Felix Leifur
LAGAFFE TALES
ZIP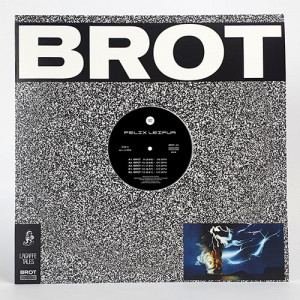 Catalog

BROT03

Title

LAGAFFE TALES

Artist

Felix Leifur

Label

Brot

Release Date

2019-10-21
12"
12inch
Broken
House
Breaks
DE EXCL
In this third chapter of the BROT series, we wrap up the trilogy from the Reykjavík based producer Felix Leifur, who has genuinely showcased his incredible set of production skills throughout the year.
These last five BROT tracks move the sound to another spectrum where Felix plays around with his traditional sound. But this time the tempo is high, and the strong influences from old school breakbeat and jungle shine through. Felix's BROT 03 ties up the first BROT series with flair and this one will surely not be the last one.
Stay tuned for more BROT action in 2020.
DJ Support:
DINA (Nachtcrew / Molten Moods / Boarding Gate ) - Another killer release from Felix Leifur - exactly the sound I was looking for, wow!
Dave Clarke (white noise radio) - Like number 12, love Reykjavik too
Lukas Wigflex (Wigflex) - Very sick. Brot 11 is doing it.
Laurent Garnier (F Communications) - Pure Quality
Ciel (Discwoman) - very interesting work
James Zabiela (Hearing Aid / Excession) - Brot 9 is some nice Boards style wonkiness. I'll take that.
B.Traits (In Toto) - LOVE the BROT series! Downloading on behalf of B.Traits
re:ni (re:lax) - great atsmospheres :)
Laksa (Illian Tape/Timedance/Mistry) - killer! lots of cuts ill play
Shy One (RinseFM/Balamii) - sick!
Acid Mondays (R&S) - really like this!
Darko Esser / Tripeo (Balans / Clone) - Even though it's not what I play, I really really enjoy this record. Amazing.
JASSS - very nice
Benjamin Damage (50 Weapons / Ten Thousand Yen / Friends Of Friends / Let's Play House) - Really nice work
Photonz (Radio Quantica / UTTU) - Love all of this
Tred (E-Missions) - Amazing EP. Have been playing a bit of Felix's stuff of late :) Sound's great pitched up and down too, super nice tools!
Ali Berger (Spectral Sound/FatCat/Clave House) - Brot 10 is pretty cool!
Mosca - 12 has that good good shuffle
P.Leone (Work Them Records, Rekids, EMISSIONS) - nice!
Caldera (WNCL / Boogie Box / Patterns) - Been enjoying the series, this one is really good as well, big up!
Korea Town Acid (Cosmic Resonance) - love this artist
DJ Leeon a.k.a. ELO (Video Club Bogota) - Again, great record! Been playing all of the records.
Julia Govor (Cocoon, BodyParts, Hypertone) - really nice! really really!
Significant Other (SPE:C) - Awesome collection of tracks that work well together - fav is Brot 12 - beautiful progression and really playful breaks !
David Martin (Dimensions Soundsystem) - Solid!
Cabasa (Eddy Larkin / 199radio) - this brot series is so good
| | | |
| --- | --- | --- |
| # | Artist | Title |
| 1 | Felix Leifur | BROT03_A_1 |
| 2 | Felix Leifur | BROT03_A_2 |
| 3 | Felix Leifur | BROT03_A_3 |
| 4 | Felix Leifur | BROT03_B_1 |
| 5 | Felix Leifur | BROT03_B_2 |