10.95 € inkl. MwSt. / zzgl. Versand ab 4.95 € innerhalb DE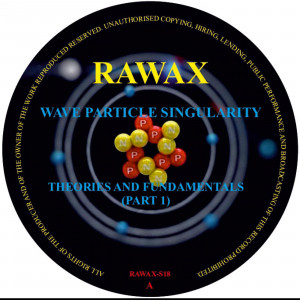 Catalog

Rawax-S018

Title

Theories And Fundamentals (Part 1)

Artist

Wave Particle Singularity

Label

rawax

Release Date

2021-02-16
TIP
12"
Techno - Minimal
Minimal Techno/ House
WW EXCL
A1. Photoelectric
A2. Measurements
B1. Super Determinism
B2. Theory of Love
Text:
One of the most important debates in the history of science took place between Albert Einstein and Niels Bohr about whether light is to be expressed as a wave, or a particle. Today, RAWAX is happy to welcome Wave Particle Singularity with a quantum oriented EP elegantly marrying interstellar waves and quantum harmonies.
| | | |
| --- | --- | --- |
| # | Artist | Title |
| 1 | Wave Particle Singularity | A1. Wave Particle Singularity - Photoelectric |
| 2 | Wave Particle Singularity | A2. Wave Particle Singularity & Adnan - Measurements |
| 3 | Wave Particle Singularity | B1. Wave Particle Singularity - Super Determinism |
| 4 | Wave Particle Singularity | B2. Wave Particle Singularity - Theory of Love |