11.95 € inkl. MwSt. / zzgl. Versand ab 4.95 € innerhalb DE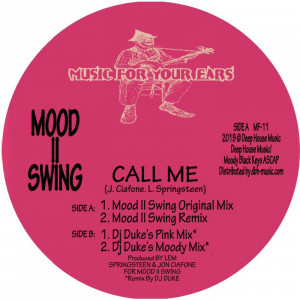 Catalog

MF-11

Title

Call Me (incl. Dj Duke Remixes)

Artist

Mood II Swing

Label

Power Music Records

Release Date

2019-12-02
TIP
12"
House
House
WW EXCL
Power Music presents Mood II Swing - Call Me (12")
This is the first re-issue ever on the original label "Earth Moon & Sun" in this constellation on 12"!
A must have including "Call Me" extended mix, Mood II Swing remix and two remixes by DJ Duke!
Teaser:
https://bit.ly/2jZQilp
Artist: Mood II Swing
Title: Call Me
Label: Music For Your Ears
Remixes: DJ Duke
Format: 12"
CAT: EMS-10.1
Genre: House
Release date: 21.10.2019
Tracklisting:
A1. Mood II Swing - Call Me (Extended Mix)
A2. Mood II Swing - Call Me (Mood II Swing Remix)
B1. Mood II Swing - Call Me (DJ Duke Pink Mix)
B2. Mood II Swing - Call Me (DJ Duke Moody Dub)
Worldwide exclusive distributed by www.dbh-music.com
| | | |
| --- | --- | --- |
| # | Artist | Title |
| 1 | Mood II Swing | A1. Mood II Swing - Call Me (Extended Mix) |
| 2 | Mood II Swing | A2. Mood II Swing - Call Me (Mood II Swing Remix) |
| 3 | Mood II Swing | B1. Mood II Swing - Call Me (DJ Duke Pink Mix) |
| 4 | Mood II Swing | B2. Mood II Swing - Call Me (DJ Duke Moody Dub) |