DJ Duke pres. Inner Soul feat. E. Scot
Im In Need 4 U (Remastered)
ZIP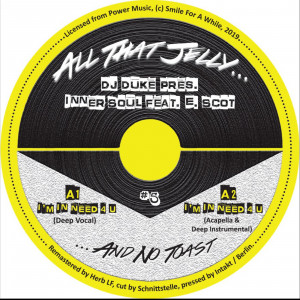 Catalog

atj005

Title

Im In Need 4 U (Remastered)

Artist

DJ Duke pres. Inner Soul feat. E. Scot

Label

All That Jelly

Release Date

2019-02-28
12"
House
house
WW EXCL
Artist: DJ Duke pres. Inner Soul feat. E. Scot
Title: I'm In Need 4 U (Remastered)
Label: All That Jelly
Release Date: Feb 28, 2019
Catalogue No.: ATJ 005
artwork by Lecsicu
Remastered by Herb LF
originally released on Power Music, 1992.
Copyright: Smile for a while, licensed from Power Music
Tracklisting
A1 - I'm in need 4 u (Deep Vocal - Remastered)
A2 - I'm in need 4 u (Acapella & Deep Instrumental – Remastered)
B1 - I'm in need 4 u (Vocal House Mix – Remastered)
B2 - I'm in need 4 u (Power Music Dub - Remastered)
press contact: david@smileforawhile.de
In 1992 DJ Duke came up with a Vocal House slammer sung by vocalist E. Scot that has
since became a club classic, being kind of rare. In 2018 Smile for a while decided to
reissue this gem with a well-balanced remaster by Deep House connoisseur Herb LF,
carefully cut by Schnittstelle in Berlin.
| | | |
| --- | --- | --- |
| # | Artist | Title |
| 1 | DJ Duke pres. Inner Soul feat. E. Scot | ATJ 005 - snippet - A1 - DJ Duke Presents Inner Soul Featuring E. Scot - Im in need 4 u (Deep Vocal - Remastered) |
| 2 | DJ Duke pres. Inner Soul feat. E. Scot | ATJ 005 - snippet - A2 - DJ Duke Presents Inner Soul Featuring E. Scot - Im in need 4 u (Acapella & Deep Instrumental - Remastered) |
| 3 | DJ Duke pres. Inner Soul feat. E. Scot | ATJ 005 - snippet - B1 - DJ Duke Presents Inner Soul Featuring E. Scot - Im in need 4 u (Vocal House Mix - Remastered) |
| 4 | DJ Duke pres. Inner Soul feat. E. Scot | ATJ 005 - snippet - B2 - DJ Duke Presents Inner Soul Featuring E. Scot - Im in need 4 u (Power Music Dub - Remastered).wav |