10.95 € inkl. MwSt. / zzgl. Versand ab 4.95 € innerhalb DE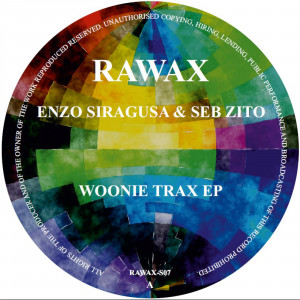 Catalog

RAWAX-S07

Title

Woonie Trax EP

Artist

Enzo Siragusa & Seb Zito

Label

rawax

Release Date

2017-05-02
TIP
12"
Techno - Minimal
Minimal Techno
WW EXCL
RAWAX-S07 - Enzo Siragusa & Seb Zito - Woonie Trax EP
Artist: Enzo Siragusa & Seb Zito
Title: Woonie Trax EP
Label: RAWAX
Format: 12"
Cat: RAWAX-S07
Rel. date: April 2017
Tracklisting:
A1. Shades Of Riddim
B1. Lil Ley
B2. Blue Notes
FUSE bosses Enzo Siragusa and Seb Zito have been invited by the highly respected Rawax to bring a taste of their beloved London rave culture roots to the labels first release of 2017.
Since their launch in 2011, Rawax's catalogue has beamed with nothing less than the finest, and Enzo and Seb are a welcomed addition to their already colourful and diverse roster. Barac, Boo Williams, Fred P, Paul Johnson, Ricardo Villalobos, Ron Trent and Unbroken Dub are just a small portion of an incredible list of artists that have released via the labels original monarch and many offshoots thus far.
With 'Woonie Trax' Enzo and Seb perfectly resurrect the sounds of early UK rave culture into the present by digging out the early gems of their record boxes as inspiration.
"Barring the kicks, I think almost everything came from sampling old garage, hardcore and jungle records from the 90's. For those in the know, the clues are in the names of the tracks". – Enzo Siragusa
Whilst 'Shades of Riddim, 'Lil Ley', and 'Blue Notes' all lend themselves to the early UK sound, each track has its own individual quirk making the EP a diverse representation of the days Enzo and Seb fell in love with rave.
www.facebook.com/djenzosiragusa
www.facebook.com/SebZitoDJ/
www.discogs.com/label/260689-Rawax
www.facebook.com/RAWAXMUSIC/
www.beatport.com/label/rawax/22353
Worldwide distributed by www.dbh-music.com
| | | |
| --- | --- | --- |
| # | Artist | Title |
| 1 | Enzo Siragusa & Seb Zito | A. Enzo Siragusa & Seb Zito - Shades Of Riddm |
| 2 | Enzo Siragusa & Seb Zito | B1. Enzo Siragusa & Seb Zito - Lil Ley |
| 3 | Enzo Siragusa & Seb Zito | B2. Enzo Siragusa & Seb Zito - Blue Notes |