10.95 € inkl. MwSt. / zzgl. Versand ab 4.95 € innerhalb DE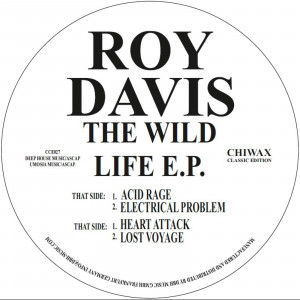 Catalog

CCE027

Title

The Wild Life E.P.

Artist

Roy Davis Jr

Label

chiwax classic edition

Release Date

2016-10-17
TIP
12"
House - Acid
House/ Acid
WW EXCL
RAWAX is very honoured to welcome a true House legend to the family. Mr. Roy Davis Jr joined forces with us to present some of his greatest releases re-mastered back on vinyl! We're starting with "The Wild Life E.P." from 1994.
Artist: Roy Davis Jr
Title: The Wild Life E.P.
Label: Chiwax Classic Edition
Genre: Acid/ House
Format: 12"
Cat: CCE027
Rel. date: 16.05.2016
Tracklisting:
A1. Roy Davis Jr - Acid Rage
A2. Roy Davis Jr - Electrical Problems
B1. Roy Davis Jr - Heart Attack
B2. Roy Davis Jr - Lost Voyage
W+P by Roy Davis Jr 1994 in Chicago, IL
Mastering by Oliver Lieb @ LH Audio
Cut by W. Jörg Henze @ LH Audio
Vinyl Manufactured by Pallas Group (Germany)
Worldwide exclusive with www.dbh-music.com
Artist info:
Added on board the Chicago house production team Phuture, as a replacement for DJ Pierre, Roy Davis Jr. later followed his mentor to New York and worked at Strictly Rhythm, recording his own singles for Force Inc., Big Big Trax and Power Music. Originally born in California, Davis moved to Chicago's south side early in his childhood. After being turned on by legendary acid-house pioneers like Phuture and Lil' Louis, he became a DJ and began producing as well, with his first single, "20 Below," recorded for the Jack Trax label.
Roy describes the music that he makes as "soul electrica"; soul music mixed with electronics. His style has changed and grown up through the years as he has been going back to his spiritual roots in house music, away from the sound that he once was associated with - Phuture's "acid" and "wild pitch." The sound he is working on is expanding more on the soulful side combining an unmistakable deep funk sound of Chicago.
| | | |
| --- | --- | --- |
| # | Artist | Title |
| 1 | Roy Davis Jr | A1. Roy Davis Jr - Acid Rage |
| 2 | Roy Davis Jr | A2. Roy Davis Jr - Electrical Problems |
| 3 | Roy Davis Jr | B1. Roy Davis Jr - Heart Attack |
| 4 | Roy Davis Jr | B2. Roy Davis Jr - Lost Voyage |