10.95 € inkl. MwSt. / zzgl. Versand ab 4.95 € innerhalb DE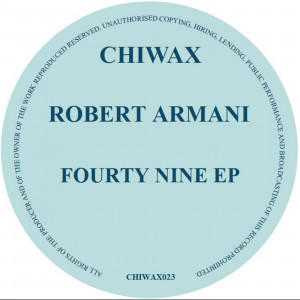 Catalog

CHIWAX023

Title

Fourty Nine EP

Artist

Robert Armani

Label

chiwax

Release Date

2017-04-14
TIP
12"
House
House
WW EXCL
RAWAX proudly presents the new release from Chicago legend, Mr. Robert Armani called "Fourty Nine EP" on CHIWAX!
SOUNDCLOUD TEASER:
https://soundcloud.com/dbh-music/chiwax023-robert-armani-fourty-nine-ep
Tracklisting:
A1. Robert Armani - Bacardi
A2. Robert Armani - Fourty Nine
B1. Robert Armani - Give You All My Love
B2. Robert Armani - Track2
Bio:
Born on Chicago's southside 1970, Robert has an expansive Musical career that started at the age of 14 with Djing and remixing from the age of 18. In his cellar Robert started organising parties that became very popular in his neigbourhood. Some of the diehard visitors of Robert besement parties were inspired by him and became also DJs, amongst them was DJ Rush others became Rapstars like R Kelly. Robert was going to become a police officer up untill he spun abroad in Italy and realized his true passion. It was actually in Italy where his female fans named him Armani because of his designer clothes he loved to wear. Robert's Influences include Armando, Mike Dunn and Frankie Knuckles. He sees his music sticking with old styles and doing "whatever comes to mind". Producing with labels including Dance Mania, Pushpac, AVC, BML, High Octane and many more Armani has captured the ears of fans and promotors all over the world . He has played many international parties givig people his hard Techno fell. You name the place Armani has played there from Chicago to Japan.
Worldwide exclusive with www.dbh-music.com
| | | |
| --- | --- | --- |
| # | Artist | Title |
| 1 | Robert Armani | R. Armani - Bacardi |
| 2 | Robert Armani | R. Armani - Fourty Nine |
| 3 | Robert Armani | R. Armani - Give You All My Love |
| 4 | Robert Armani | R. Armani - Track 2 |